PHENOMENES (2008)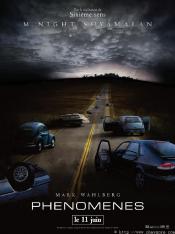 Surgi de nulle part, le phénomène frappe sans discernement. Il n'y a aucun signe avant-coureur. En quelques minutes, des dizaines, des centaines de gens meurent dans des circonstances étranges, terrifiantes, totalement incompréhensibles. Qu'est-ce qui provoque ce bouleversement radical et soudain du comportement humain ? Est-ce une nouvelle forme d'attaque terroriste, une expérience qui a mal tourné, une arme toxique diabolique, un virus qui a échappé à tout contrôle ? Et comment cette menace se propage-t-elle ? Par l'air, par l'eau, ou autrement ?
Pour Elliot Moore, professeur de sciences dans un lycée de Philadelphie, ce qui compte est d'abord d'échapper à ce phénomène aussi mystérieux que mortel. Avec sa femme, Alma, ils fuient en compagnie d'un ami, professeur de mathématiques, et de sa fille de huit ans.
Très vite, il devient évident que personne n'est plus en sécurité nulle part. Il n'y a aucun moyen d'échapper à ce tueur invisible et implacable.
Pour avoir une mince chance de survivre, Elliot et les siens doivent à tout prix comprendre la véritable nature du phénomène, et découvrir ce qui a déchaîné cette force qui menace l'avenir même de l'espèce humaine...
Titre original : THE HAPPENING
Réalisateur(s) :
M Night Shyamalan
Scénariste(s) : M Night Shyamalan (written by)
Genre(s) : Sci-Fi | Thriller
Durée : 91 min
Année : 2008
Pays : USA | India | France
Langue(s) : English | French
Couleur : Color
Ratio : 185 : 1
Son : SDDS| Dolby Digital| DTS
Sortie France : 2008-06-11
Sortie US : 2008-06-13
Autre(s) Titre(s) :
(original title) - The Happening
Argentina - El fin de los tiempos
Bulgaria (Bulgarian title) - Явлението
Brazil - Fim dos Tempos
Canada (French title) - L'événement
Czech Republic - Stalo se
Germany - The Happening
Estonia - Aeg on käes
Spain - El incidente
France - Phénomènes
Greece (transliterated ISO-LATIN-1 title) - To symvan
Greece - Το συμβάν
Croatia - Događaj
Hungary - Az esemény
Italy - E venne il giorno
Lithuania - Ivykis
Mexico - El fin de los tiempos
Poland - Zdarzenie
Portugal - O Acontecimento
Serbia - Pretnja
Russia - Явление
Turkey (Turkish title) - Mistik olay
Ukraine - Явище
USA (working title) - Green Planet
USA (working title) - The Green Effect
Venezuela - El fin de los tiempos
Acteurs :
Cast 
Mark Wahlberg Elliot Moore
Zooey Deschanel Alma Moore
John Leguizamo Julian
Ashlyn Sanchez Jess
Betty Buckley Mrs Jones
Spencer Breslin Josh
Robert Bailey Jr Jared
Frank Collison Nursery Owner
Jeremy Strong Private Auster
Alan Ruck Principal
Victoria Clark Nursery Owner's Wife
M Night Shyamalan Joey (voice)
Alison Folland Woman Reading on Bench with Hair Pin
Kristen Connolly Woman Reading on Bench
Cornell Womack Construction Foreman
Curtis McClarin Construction Crew Member
Robert Lenzi Jake
Derege Harding Train Conductor
Kerry O'Malley Woman on Cell Phone
Shayna Levine Teenage Girl in Jeep
Stéphane Debac French Bicyclist
Cyrille Thouvenin French Bicyclist's Friend
Babita Hariani Medical Correspondent
Alicia Taylor US Reporter
Edward James Hyland Professor Kendall Wallace
Armand Schultz Talk Show Host
Stephen Singer Dr Ross
Sophie Burke Student Named Laura
Alex Van Kooy Boy in Class
Charlie Saxton Student Named Dylan
Kathy Hart Vice Principal
Lisa Furst Teacher in Auditorium (as Lisa Gunn)
Rick Foster Railway Police Officer
Marc H Glick PA System Conductor
Don Castro Philadelphia Police Officer
Bill Chemerka Taxi Driver - Sal
Jann Ellis Older Woman with Dog
Whitney Sugarman Passenger
Mary Ellen Driscoll Woman Passenger
Greg Wood Passenger at Counter
Peter Appel Diner Owner
Eoin O'Shea Passenger #1
Michael Quinlan Passenger #2
Lyman Chen Passenger #3
Brian O'Halloran Jeep Driver (as Brian C O'Halloran)
Megan Grace Jeep Passenger #1 (as Megan Mazaika)
Rich Chew Jeep Passenger #2 (as Richard Chew)
Keith Bullard Man in Crowd at Crossroads (as Keith E Bullard)
Joel de la Fuente Realtor (as Joel De La Fuente)
Ashley Brimfield Woman in Group
Mara Hobel Woman with Hands Over Ears
James Breen Farmhouse Voice (voice) (as James 'Jimbo' Breen)
Carmen Bitonti Mangled Construction Worker
Brian Anthony Wilson Arguing Man in Crowd
Greg Smith Zoo Employee (as Greg Smith Aldridge)
Ukee Washington Local News Anchor
John Ottavino Network News Anchor
Sid Doherty Radio News Anchor
Wes Heywood Radio Voice (voice)
Nancy Sokerka Radio Caller Fay (voice)
Julia Yorks Young Woman Voice on Phone (voice)
Bill Shusta Radio Newsman (voice)
Kirk Penberthy Radio Announcer (voice)
Alex Craft Truck Passenger Boy
Allie Habberstad Truck Passenger Girl
Alexander Emmert Wandering Man in Park
Frank Aptacy Dog Walker (uncredited)
Michael Biscardi Jogger in the Park (uncredited)
Robert Bizik Train Passenger (uncredited)
Anthony C Brown College Student (uncredited)
Lee Burkett Urban Refugee (uncredited)
Jennifer Butler Screaming Mother (uncredited)
Catherine Cahill Train Passenger (uncredited)
Chelsea Connell High School Student (uncredited)
Austin Cope Extra (uncredited)
Adam Danoff Jogger in Philadelphia (uncredited)
Michael Den Dekker Construction Worker (uncredited)
Christian Dorsey Traveler (uncredited)
Farris Ellington Girl in Rural Group 2 (uncredited)
Robert Fazio Young Businessman (uncredited)
Ruben Fischman Businessman on Train (uncredited)
Devon Franklin Student (uncredited)
Leilani Goode Train Station Patron (uncredited)
Richard Graves College Student (uncredited)
Thomas M Hagen Nervous Traveler (uncredited)
Mark Jacobson Conductor (uncredited)
William James Kelly Train Passenger (uncredited)
Basil Kershner Train Passenger (uncredited)
Steven J Klaszky Train Conductor #2 (uncredited)
Michael J Kraycik Businessman (uncredited)
Dustin LaValley Extra (uncredited)
Traci Law Train Passenger #3 (uncredited)
Nicole Lee Tourist (uncredited)
Roberto Lombardi Father in Elliot's Group (uncredited)
Art Lyle Businessman (uncredited)
Nicholas Alexander Martino Student with Skateboard (uncredited)
Chris McMullin School Maintainance Man (uncredited)
Jeffrey Mowery Backwords Walker (uncredited)
Ken Myers Businessman (uncredited)
Mauricio Ovalle Construction Crew (uncredited)
Sophia Paulmier Student Talking on Phone (uncredited)
Charles Pendelton Restroom Patron (uncredited)
Nikki Prantil Last Child to Die (uncredited)
Mark Pricskett Diner Local (uncredited)
Vincent Riviezzo Traveler (uncredited)
Sam Rocco Passenger (uncredited)
Jordan Romero Train Passenger (uncredited)
Megan Rose Cafe Guest (uncredited)
Kurt Runkle Urban Refugee (uncredited)
Christina Sampson Train Passenger (uncredited)
Ben Samuels Train Passenger (uncredited)
Chuck Schanamann Businessman (uncredited)
Adam Schoon Mr Jones (uncredited)
Eugene Smith Business Man (uncredited)
Lee Squire Student (uncredited)
Samantha Steffen Schoolgirl (uncredited)
Joseph Tornatore Train Conductor #3 (uncredited)
Scott Troost Young Man Walking Backwards (uncredited)
Jared Uhrich Jogger in the Park (uncredited)
Dan Van Wert Police Officer (uncredited)
Catrina Villani Student (uncredited)
Joseph Villani Student (uncredited)
Kimberly Villanova Passenger (uncredited)
Mike Wilson Business Traveler (uncredited)
John Wooten Train Passenger (uncredited)
Scott Yannick Park Bench Newspaper Reader (uncredited)
Stosh Zona Train Passenger (uncredited)
Toutes les informations proviennent du site http://www.imdb.com
Cette page a été vue 9923 fois.