PETITE BOUTIQUE DES HORREURS, LA (1960)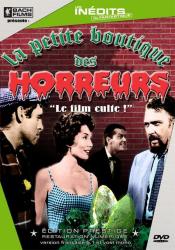 Titre original : THE LITTLE SHOP OF HORRORS
Réalisateur(s) :
Roger Corman
Scénariste(s) :
Charles B. Griffith
Année : 1960
Pays : USA
Langue(s) : English
Couleur : Black and White
Ratio : 1.85 : 1
Son : Mono
Sortie US : 1960-08-05
Autre(s) Titre(s) :
The Little Shop of Horrors - USA (original title)
A Loja dos Horrores - Brazil / Portugal (imdb display title)
La piccola bottega degli orrori - Italy (imdb display title) / Italy
A Pequena Loja dos Horrores - Brazil (cable TV title)
Gys i blomsterbutikken - Denmark (DVD title)
Kleiner Laden voller Schrecken - West Germany
La pequeña tienda de los horrores - Spain
La petite boutique des horreurs - France
La tiendita del horror - Argentina
Mala prodavnica strave - Serbia (imdb display title)
Pieni kauhukauppa - Finland
Rémségek kicsiny boltja - Hungary
Sklepik z horrorami - Poland (imdb display title)
The Passionate People Eater - USA (working title)
To magazaki tou tromou - Greece (TV title)
Acteurs :
Jonathan Haze - Seymour Krelboyne
Jackie Joseph - Audrey Fulquard
Mel Welles - Gravis Mushnick
Dick Miller - Burson Fouch
Myrtle Vail - Winifred Krelboyne
Karyn Kupcinet - Shirley (as Tammy Windsor)
Toby Michaels - Shirley's Friend
Leola Wendorff - Mrs. Siddie Shiva
Lynn Storey - Mrs. Hortense Fishtwanger - Society of Silent Flower Observers of Southern California
Wally Campo - Det. Sgt .Joe Fink / Narrator
Jack Warford - Det. Frank Stoolie
Meri Welles - Leonora Clyde (as Merri Welles)
John Herman Shaner - Dr. Phoebus Farb (as John Shaner)
Jack Nicholson - Wilbur Force
Dodie Drake - Waitress
Robert Coogan - Tramp (uncredited)
Jack Griffin - Drunk (uncredited)
Charles B. Griffith - Kloy Haddock - hold-up man / Screaming Patient / Audrey Junior (uncredited) (voice)

Toutes les informations proviennent du site http://www.imdb.com
Cette page a été vue 4046 fois.