LOCKJAW (2008)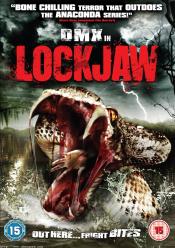 Alan et Becky, deux enfants, dérobent un ancien artefact vaudou permettant d'invoquer une créature destinée à assouvir les moindres vengeances de la personne l'ayant appelée. Des années plus tard, Becky est renversée et tuée par la voiture d'une bande de jeunes en vacances.
Alan devenu son mari et assoiffé de vengeance, va se servir du talisman pour lancer la créature à leur trousses.
Titre original : LOCKJAW: RISE OF THE KULEV SERPENT
Réalisateur(s) :
Amir Valinia
Scénariste(s) : Jodie Jones, Evan Scott (screenplay)
Genre(s) : Horror | Sci-Fi
Année : 2008
Pays : USA
Langue(s) : English
Couleur : Color
Sortie US : 2009-05-26
Autre(s) Titre(s) :
Germany (DVD title) - Lockjaw - Rückkehr der Killerschlange
Germany (rerun title) - Snake Megadeath
Greece (transliterated ISO-LATIN-1 title) - To xypnima
Hungary - Kígyódémon
USA (DVD box title) - Carnivorous
USA (DVD title) - DMX Carnivorous
Acteurs :
Cast 
DMX Nick
Wes Brown Kelly
Louis Herthum Alan Cade
Lauren Fain Sam
Brendan Aguillard Young Alan
Lisa Arnold Becky
Debra Arnott Laura Cade
Derrick Denicola Winston
Devin Denicola Mailman
Caleb Michaelson Kurt
David Pullman Clayton
Abby Rao Young Becky
Sheldon Robins Madd dog
Tony Senzamici Paul Cade
Victoria Vodar Ashley
Aucun commentaire pour l'instant.
Toutes les informations proviennent du site http://www.imdb.com
Cette page a été vue 3520 fois.