GAMERA, GARDIEN DE L'UNIVERS (1995)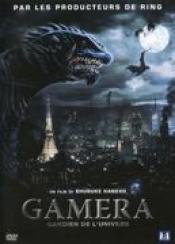 En mer de Béring, alors qu'un cargo de plutonium s'échoue, une petite île est la proie d'étranges oiseaux carnivores se nourrissant de ses habitants. Lorsqu'un de ces « Gyaos » subit une mutation physique au contact de la matière radioactive, la situation dégénère. Tokyo se retrouve alors la proie de la créature gigantesque qui cherche un nouveau territoire de chasse. Face à cette menace, le gouvernement va devoir se résoudre à s'allier avec le prédateur ancestral de l'oiseau : le Gamera. Mais une alliance est elle vraiment possible ?
Titre original : GAMERA DAIKAIJû KUCHU KESSEN
Réalisateur(s) :
Shûsuke Kaneko
Scénariste(s) : Matt Greenfield (dialogue), Kazunori Itô, James Shanks (UK version) (UK version)
Genre(s) : Action | Adventure | Drama
Durée : 96 min
Année : 1995
Pays : Japan
Langue(s) : Japanese
Couleur : Color
Ratio : 185 : 1
Son : Dolby
Sortie US : 1997-04-16
Autre(s) Titre(s) :
(original title) - Gamera daikaijû kuchu kessen
Germany - Gamera - Guardian of the Universe
Spain - Gamera: El guardián del universo
France - Gamera, gardien de l'univers
Greece - Gamera: O Prostatis tou Sympantos
USA (DVD title) - Gamera: Guardian of the Universe
World-wide (English title) - Gamera: Guardian of the Universe
Acteurs :
Cast 
Tsuyoshi Ihara Yoshinari Yonemori
Akira Onodera Naoya Kusangi
Shinobu Nakayama Mayumi Nagamine
Ayako Fujitani Asagi Kusanagi
Yukijirô Hotaru Insp Osako
Hatsunori Hasegawa Col Satake
Hirotarô Honda Mr Saito
Akira Kubo Captain of the Kairyumaru
Kôjirô Hongô Captain of the Nojima
Takashi Matsuo Taxi driver
Yoshihiko Hakamada Michiya
Tomiko Ishii Female Grocery store Owner
Jun Fubuki Housewife with her son in Grocery store
Yuka Sakano Yukino - Asagi's Friend in Aquarium
Sarina Kô Female Newsrepoter on Himegami Island
Minako Nagai Herself - News Casrer for Alta
Akemi Nakamura Female Correspondent at Dome
Nanako Shindo Zoo Employee
Miyako Wada Mother at Bridge
Tetsu Watanabe Captain at Mt Fuji
Carol Amerson Various (voice)
Tiffany Grant Dr Mayumi Nagamine (voice)
Yuhmi Kaneyama Gyaos
Gene Kato Helicopter Pilot (voice)
Yûko Kimura Herself - News caster for Plus One
Jason Lee Miltary Helicopter Pilot (voice)
Tristan MacAvery Mr Kusanagi (voice)
Naoaki Manabe Gamera
Yûichi Mayama Himself - News caster for Plus One
Paul Sidello Inspector Ohsako (voice)
Jun Suzuki Gamera
Sue Ulu Reporter (voice)
Brett Weaver News Anchor, Scientist (voice)
Amanda Winn Lee Asagi Kusanagi (voice)
Aucun commentaire pour l'instant.
Toutes les informations proviennent du site http://www.imdb.com
Cette page a été vue 2193 fois.