CORALINE (2009)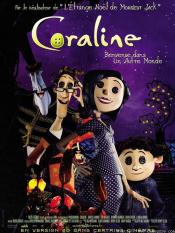 Coraline Jones est une fillette intrépide et douée d'une curiosité sans limites. Ses parents, qui ont tout juste emménagé avec elle dans une étrange maison, n'ont guère de temps à lui consacrer. Pour tromper son ennui, Coraline décide donc de jouer les exploratrices. Ouvrant une porte condamnée, elle pénètre dans un appartement identique au sien... mais où tout est différent. Dans cet Autre Monde, chaque chose lui paraît plus belle, plus colorée et plus attrayante. Son Autre Mère est pleinement disponible, son Autre Père prend la peine de lui mitonner des plats exquis, et même le Chat, si hautain dans la Vraie vie, daigne s'entretenir avec elle. Coraline est bien tentée d'élire domicile dans ce Monde merveilleux, qui répond à toutes ses attentes. Mais le rêve va très vite tourner au cauchemar. Prisonnière de l'Autre Mère, Coraline va devoir déployer des trésors de bravoure, d'imagination et de ténacité pour rentrer chez elle et sauver sa Vraie famille...
Titre original : CORALINE
Réalisateur(s) :
Henry Selick
Scénariste(s) : Henry Selick, Neil Gaiman
Année : 2009
Pays : USA
Langue(s) : English | Russian
Couleur : Black and White| Color
Ratio : 1.85 : 1
Son : DTS| Dolby Digital
Sortie France : 2009-06-10
Autre(s) Titre(s) :
Coraline y la puerta secreta - Argentina / Mexico / Peru / Uruguay
Коралина в стране кошмаров - Russia
Coraline - Finland (Swedish title)
Coraline & the Secret Door - Australia (promotional title)
Coraline és a titkos ajtó - Hungary (imdb display title)
Coraline and the Button Witch - Japan (literal English title)
Coraline e a Porta Secreta - Portugal
Coraline e la porta magica - Italy (imdb display title)
Coraline e o Mundo Secreto - Brazil
Coraline en de geheime deur - Netherlands (dubbed version)
Coraline ja salajane uks - Estonia
Coraline ja toinen todellisuus - Finland
Coraline och spegelns hemlighet - Sweden
Coraline og den hemmelige dør - Norway
Coraline, to spiti stin omihli - Greece (transliterated ISO-LATIN-1 title)
Coraline: Το Σπίτι στην Ομίχλη - Greece
Koralin ve gizli dünya - Turkey (Turkish title)
Koralina - Serbia (imdb display title)
Koralina i tajemnicze drzwi - Poland
Koralina i tajna ogledala - Croatia
Korarain to botan no majo - Japan
Korolaina ir slaptas pasaulis - Lithuania (imdb display title)
Los mundos de Coraline - Spain (imdb display title)
Acteurs :
Dakota Fanning - Coraline Jones (voice)
Teri Hatcher - Mel Jones / Other Mother / Beldam (voice)
Jennifer Saunders - Miss April Spink / Other Spink (voice)
Dawn French - Miss Miriam Forcible / Other Forcible (voice)
Keith David - The Cat (voice)
John Hodgman - Charlie Jones / Other Father (voice)
Robert Bailey Jr. - Wyborne 'Wybie' Lovat (voice)
Ian McShane - Mr. Sergei Alexander Bobinsky / Other Bobinsky (voice)
Aankha Neal - Sweet Ghost Girl (voice)
George Selick - Ghost Boy (voice)
Hannah Kaiser - Tall Ghost Girl (voice)
Harry Selick - Photo Friend (voice)
Marina Budovsky - Photo Friend (voice)
Emerson Tenney - Magic Dragonfly (voice) (as Emerson Hatcher)
Jerome Ranft - Mover (voice)
Christopher Murrie - Toy (voice)
Jeremy Ryder - Toy (voice)
Carolyn Crawford - Wybie's Grandmother (voice)
Yona Prost - Shakespeare Rascal (voice)

Toutes les informations proviennent du site http://www.imdb.com
Cette page a été vue 5452 fois.