ZINTRUS, LES (2009)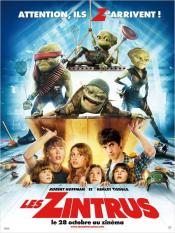 Pour resserrer les liens familiaux, toute la famille Pearson décide de passer ses vacances dans une grande maison perdue en pleine campagne. L'oncle Nate, son fils Jake, grand-mère Nana Rose et les jumeaux Art et Lee viennent les rejoindre. Un soir, une étrange tempête s'abat sur la maison, et quatre mystérieux objets atterrissent sur le toit. Ce sont des vaisseaux spatiaux transportant des extraterrestres bien décidés à conquérir la Terre... Les aliens disposent d'une technologie redoutable capable de contrôler les esprits... mais cela ne marche que sur les adultes ! Pour sauver leur famille – et le monde – les enfants ne peuvent compter que sur eux-mêmes. S'engage alors dans l'ombre, à l'insu des adultes, un combat dont l'issue décidera du sort de l'humanité tout entière...
Titre original : ALIENS IN THE ATTIC
Réalisateur(s) :
John Schultz
Scénariste(s) : Mark Burton (screenplay) and, Adam F Goldberg (screenplay),  , Mark Burton (story)
Genre(s) : Adventure | Comedy | Family
Durée : 86 min
Année : 2009
Pays : USA | Canada
Langue(s) : English
Couleur : Color
Ratio : 185 : 1
Son : Dolby| Dolby Digital| DTS
Sortie France : 2009-10-28
Sortie US : 2009-07-31
Autre(s) Titre(s) :
(original title) - Aliens in the Attic
Argentina - Pequeños invasores
Brazil - Pequenos Invasores
Canada (French title) - Des extraterrestres dans le grenier
Czech Republic - Príserky z podkroví
Germany - Die Noobs - Klein aber gemein
Spain - Pequeños invasores
Finland - Ullakkojengi
France - Les Zintrus
Greece (transliterated ISO-LATIN-1 title) - Exogiinoi sti sofita
Hungary - Ufók a padláson
Italy - Alieni in soffitta
Mexico - Pequeños invasores
Netherlands (dubbed version) - Vreemde gasten
Norway - De kom fra rommet
Peru - Pequeños invasores
Poland - Obcy na poddaszu
Portugal - Aliens no Sótão
Russia - Пришельцы на чердаке
Turkey (Turkish title) - Evimde uzayli var
USA (working title) - They Came from Upstairs
Acteurs :
Cast 
Carter Jenkins Tom Pearson
Austin Butler Jake Pearson
Ashley Tisdale Bethany Pearson
Ashley Boettcher Hannah Pearson
Henri Young Art Pearson
Regan Young Lee Pearson
Doris Roberts Nana Rose Pearson
Robert Hoffman Ricky Dillman
Kevin Nealon Stuart Pearson
Gillian Vigman Nina Pearson
Andy Richter Uncle Nathan Pearson
Tim Meadows Sheriff Doug Armstrong
Malese Jow Julie
Megan Parker Brooke
Maggie VandenBerghe Annie Filkins
Doug MacMillan Police Radio Dispatch
Warren Paeff Radio Announcer
Thomas Haden Church Tazer (voice)
Josh Peck Sparks (voice)
JK Simmons Skip (voice)
Kari Wahlgren Razor (voice)
Ashley Peldon Additional Voice (voice)
Antonio Banderas Zorro (archive footage) (uncredited)
Catherine Zeta-Jones Elena Montero (archive footage) (uncredited)
Aucun commentaire pour l'instant.
Toutes les informations proviennent du site http://www.imdb.com
Cette page a été vue 3050 fois.