THE HOLE 3D (2009)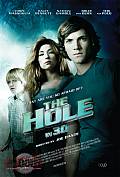 Quand Dane et son petit frère Lucas quittent New York pour suivre leur mère dans la petite ville de Bensonville, ils pensent que rien ne pourrait être pire. Mais tout va changer lorsque Lucas, en explorant les recoins de leur nouvelle maison, découvre dans la cave un mystérieux trou sous une trappe verrouillée. Alors qu'ils font différentes expériences pour savoir jusqu'où il va, ils s'aperçoivent avec effroi que le trou semble continuer sans fin. C'est le début d'une aventure qui va les obliger à affronter leurs peurs les plus enfouies.
Titre original : THE HOLE
Réalisateur(s) :
Joe Dante
Scénariste(s) :
Mark L. Smith
Année : 2009
Pays : USA
Langue(s) : English
Couleur : Color
Ratio : 1.85 : 1
Son : Dolby Digital
Autre(s) Titre(s) :
The Hole - Greece (imdb display title) / Italy (working title)
Врата в 3D - Russia
A rettegés mélye - Hungary
Mahzen - Turkey (imdb display title) (Turkish title)
Medos - Portugal (imdb display title)
Miedos - Argentina (imdb display title)
Miedos 3D - Spain (imdb display title)
O Buraco - Brazil (imdb display title)
Rupa straha - Serbia (imdb display title)
Strach - Poland (imdb display title)
The Hole - Wovor hast Du Angst? - Germany (DVD title)
The Hole in 3D - International (promotional title) (English title)
Acteurs :
Chris Massoglia - Dane
Haley Bennett - Julie
Nathan Gamble - Lucas
Teri Polo - Susan
Bruce Dern - Creepy Carl
Quinn Lord - Annie Smith
John DeSantis - Monster Dad (as John Desantis)
Douglas Chapman - Normal Dad (as Doug Chapman)
Mark Pawson - Travis
Peter Shinkoda - Young Cop
Jonathan Bruce - Mover
Merritt Patterson - Jessica (as Merrit Patterson)
Ali Cobrin - Tiffany
Chelsea Ricketts - Whitney
Chord Overstreet - Adam
Wade Williams - Monster Dad Voice (voice)
Mary Mouser - Annie Voice (voice)
Michael Ark - Flirty Boy (uncredited)
Dylan Garrett - Pick-up Driver (uncredited)
Billy Hendrickson - Ghost on monitor (uncredited)
Paul Hooson - Jester (uncredited)
Jessica Just - Pool Girl (uncredited)
Dick Miller - Pizza Delivery Guy (uncredited)
Stephanie Wilcox - (uncredited)

Aucun commentaire pour l'instant.
Toutes les informations proviennent du site http://www.imdb.com
Cette page a été vue 5331 fois.