SURVIVANT, LE (1971)
FICHE
| CRITIQUE(S) |
PHOTOS (13)
| NEWS | DVDS | VIDEOS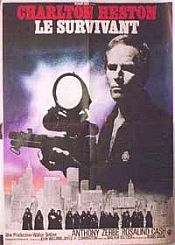 Deux ans après qu'une guerre bactériologique a dévasté la planète, un médecin savant, qui se croit seul à avoir gardé apparence humaine grâce à un vaccin expérimental, est sauvé d'une secte de mutants albinos par un petit groupe de ses semblables, qu'il essaie de protéger de leur prochaine métamorphose en produisant du sérum avec son sang.
Titre original : THE OMEGA MAN
Réalisateur(s) :
Boris Sagal
Scénariste(s) : John William Corrington (screenplay) and, Joyce Hooper Corrington (screenplay) (as Joyce H Corrington),  , Richard Matheson (novel 'I Am Legend'),  , William Peter Blatty (uncredited)
Genre(s) : Action | Sci-Fi | Thriller
Durée : 98 min
Année : 1971
Pays : USA
Langue(s) : English
Couleur : Color(Technicolor)
Ratio : 235 : 1
Son : Mono
Sortie France : 1971-11-24
Sortie US : 1971-08-01
Autre(s) Titre(s) :
(original title) - The Omega Man
Argentina (working title) - El Hombre Omega
Belgium (Flemish title) - De overlevende
Bulgaria (Bulgarian title) - Човекът Омега
Brazil - A Última Esperança da Terra
Canada (French title) (long title) - Le survivant
Denmark - Sidste mand i live
Spain - El último hombre... vivo
Finland (Swedish title) - Den sista mannen
Finland - Viimeinen mies
France - Le survivant
Greece (transliterated ISO-LATIN-1 title) - O anthropos pou antikryse tin Kolasi
Hungary - Az omega ember
Italy - 1975: occhi bianchi sul pianeta Terra
Mexico - La última esperanza
Poland - Czlowiek Omega
Portugal - O Último Homem na Terra
Serbia - Poslednji čovek
Sweden - Den siste mannen
Soviet Union (Russian title) - Человек Омега
Turkey (Turkish title) - Tek adam
Uruguay - La última esperanza
Venezuela - La última esperanza
West Germany - Der Omega-Mann
Acteurs :
Cast 
Charlton Heston Neville
Anthony Zerbe Matthias
Rosalind Cash Lisa
Paul Koslo Dutch
Eric Laneuville Richie
Lincoln Kilpatrick Zachary
Jill Giraldi Little Girl
Anna Aries Woman in Cemetery Crypt
Brian Tochi Tommy
DeVeren Bookwalter Family Member (as De Veren Bookwalter)
John Dierkes Family Member
Monika Henreid Family Member
Linda Redfearn Family Member
Forrest Wood Family Member
Steve Goldstein Last Boy (uncredited)
Aucun commentaire pour l'instant.
Toutes les informations proviennent du site http://www.imdb.com
Cette page a été vue 2113 fois.