SUPERHERO MOVIE (2008)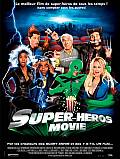 Lycéen timide et mal dans sa peau, Rick Ricker vit avec son oncle et sa tante depuis que ses parents ont été tués. Il est secrètement amoureux de la ravissante Jill Johnson qui, pour son malheur, a déjà un petit copain. Pendant la visite scolaire d'un laboratoire de recherche, Rick est piqué par une libellule génétiquement modifiée. Peu à peu, alors qu'il voit ses forces décuplées, il comprend qu'il est désormais pourvu de super-pouvoirs. Après s'être fabriqué un costume, il adopte sa nouvelle identité : La Libellule. Mais il lui faudra affronter un redoutable ennemi, Le Sablier, déterminé à anéantir tous ceux qui l'approchent...
Titre original : SUPERHERO MOVIE
Réalisateur(s) :
Craig Mazin
Scénariste(s) : Craig Mazin (written by)
Genre(s) : Action | Comedy | Sci-Fi
Durée : 75 min | 82 min (extended edition)
Année : 2008
Pays : USA
Langue(s) : English
Couleur : Color
Ratio : 185 : 1
Son : Dolby Digital
Sortie France : 2008-06-04
Sortie US : 2008-03-28
Autre(s) Titre(s) :
(original title) - Superhero Movie
Argentina - Superhéroes, la película
Brazil - Super-Herói: O Filme
Canada (French title) - Film de super-héros
Czech Republic - Suprhrdina
Germany - Superhero Movie
Spain - Superhero Movie
France - Super Héros Movie
Greece - Superhero Movie
Hungary - Superhero Movie
Italy - Superhero - Il più dotato fra i supereroi
Lithuania - Superherojus!
Norway - Superhero Movie
Poland - Superhero
Portugal - Super-Herói: O Filme
Russia - Супергеройское кино
Slovenia - Film o superjunaku
Turkey (Turkish title) - En süper kahraman
USA (working title) - Superhero!
Acteurs :
Cast 
Drake Bell Rick Riker
Sara Paxton Jill Johnson
Christopher McDonald Lou Landers
Leslie Nielsen Uncle Albert
Kevin Hart Trey
Marion Ross Aunt Lucille
Ryan Hansen Lance Landers
Keith David The Chief of Police
Brent Spiner Dr Strom
Robert Joy Dr Hawking
Jeffrey Tambor Dr Whitby
Robert Hays Blaine Riker
Nicole Sullivan Julia Riker
Sam Cohen Young Rick
Tracy Morgan Professor Xavier
Regina Hall Mrs Xavier
Marisa Lauren Storm
Craig Bierko Wolverine (scenes deleted)
Richard Tillman Leg-Shaving Wolverine
Simon Rex The Human Torch
Dan Castellaneta Carlson
Atom Gorelick Stretchy Boy
Alison Woods Stretchy Girl
Eric Artell Sneezo
Sean Simms Barry Bonds
Pamela Anderson Invisible Girl
Miles Fisher Tom Cruise
Brian Carpenter Matthews
Vincent Larusso Bank Robber (as Vincent A Larusso)
Michael Papajohn 'Gimme your wallet'
Anna Osceola 'Dr Hawking, I am such a fan'
Rod McLachlan Actual Editor
John Getz Lunatic Editor
Charlene Tilton Jill's Mother
Jenica Bergere 'Mr Landers!'
Byrne Offutt Reporter Ed
Vic Polizos Undertaker
Daryl J Johnson 'Well, an old guy did get shot over there'
Kent Shocknek News Anchor
Amanda Carlin Principal
Clay Greenbush Dead Blonde Woman's Husband
Kurt Fuller Bank Loan Officer
Seth McCook Paperclip Guy
Craig Mazin 'Okay, I come back'
Jonathan Chase Onlooker #1
Kourtney Kaas Onlooker #2
Karlton Johnson Truck Driver
Charles W Gray 'Thanks for the loan, Mr Thompson' (as Charles Woods Gray)
Wendy L Walsh Live Reporter (as Wendy Walsh)
Ian Patrick Williams King of Sweden
Elisabeth Noone 'Take me'
Aki Aleong Dalai Lama
Howard Mungo Nelson Mandela
David McKnight Bishop Tutu
Freddie Pierce Tony Bennett
Steve Monroe Nerdy Dragonfly
Jeremiah Hu Asian Hourglass
Matt Champagne 'Excuse me, there's a line!'
Susan Breslau Mourner (as Susan R Breslau)
Nick Kiriazis Police Officer
Aubrie Lemon Dead Blonde Woman
Ajay Mehta Convenience Store Owner
Cameron Ali Sims Xavier's Son
Lil' Kim Xavier's Daughter (as Kimberly Jones)
Jordan Rubin The Guy Who Wipes Wolverine's Ass (scenes deleted)
Shanna Beauchamp Student (uncredited)
James J Burke YouTube User (uncredited)
Timothy Farmer Kid in the Orange Beanie (uncredited)
Hollis Hill Tutu Man #2 (uncredited)
Whitney Ann Jenkins Pink Superhero (uncredited)
Alan Mueting Security Man (uncredited)
Steven Jay Porus Hairy Man (uncredited)
Gene Richards Chicken Man (uncredited)
Marque Richardson Xavier's Older Son (uncredited)
Thomas Rosales Jr Bandit in Alley (uncredited)
Daniel Smith Coleman Student (uncredited)
Manu Toigo Award Presenter (uncredited)
Julie Van Neo-Batgirl (uncredited)
Aucun commentaire pour l'instant.
Toutes les informations proviennent du site http://www.imdb.com
Cette page a été vue 2586 fois.