Filmographie de : Stuart Devenie
Actrice / Acteur :

THE TATTOOIST

, de

Peter Burger

, 2007

Fasciné par des rituels samoans, un tatoueur se retrouve confronté à un esprit dangereux......

FANTôMES CONTRE FANTôMES

(The Frighteners), de

Peter Jackson

, 1996

Un architecte médium arnaque les habitants de sa ville avec l'aide de ses amis revenants. Lorsque plusieurs habitants ont des infarctus, il est le coupable idéal aux yeux de la population. Il va devoir faire appel aux fantômes pour s'en sortir et affronter un véritable spectre-tueur......

MEET THE FEEBLES

(Meet the Feebles), de

Peter Jackson

, 1989

...

BRAINDEAD

(), de

Peter Jackson

, 0

Un jeune homme coupe un peu tard le cordon ombilical....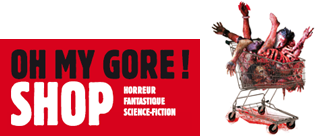 23-Jul
*
American Nightmare : Anarchy
*
The Raid 2: Berandal
30-Jul
*
Echo
*
La Planète des singes : L'Affrontement
*
Mister Babadook
© 2001-2013 Oh My Gore ! -
Mentions Légales
Tous les contenus multimédia (images, photos, vidéos..) diffusés sur ce site sont la propriété de leurs auteurs ou ayants droits respectifs et ne sont diffusés que dans un but informatif.
-
Liens
-
Contacts
-
OMG Army
-
SciFi-Universe.com
|
Halluciner.fr
-|- In Gore We Trust -|-