SCARY MOVIE 4 (2006)
FICHE
| CRITIQUE(S) |
PHOTOS (36)
| NEWS | DVDS | VIDEOS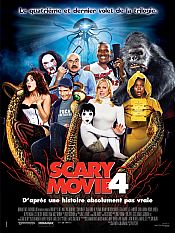 À présent infirmière, Cindy Campbell doit faire face à une attaque de tripods extra-terrestres et au fantôme d'un petit garçon.
Titre original : SCARY MOVIE 4
Réalisateur(s) :
David Zucker
Scénariste(s) : Craig Mazin (screenplay) &, Jim Abrahams (screenplay) &, Pat Proft (screenplay),  , Craig Mazin (story),  , Shawn Wayans (characters) &, Marlon Wayans (characters) &, Buddy Johnson (characters) &, Phil Beauman (characters) and, Jason Friedberg (characters) &, Aaron Seltzer (characters)
Genre(s) : Comedy
Durée : 83 min | 89 min (unrated)
Année : 2006
Pays : USA
Langue(s) : English
Couleur : Color
Ratio : 185 : 1
Son : Dolby Digital| DTS| SDDS
Sortie France : 2006-06-21
Sortie US : 2006-04-14
Autre(s) Titre(s) :
Argentina - Scary movie 4 - Descuartizados de miedo
Australia (cable TV title) - Scary Movie 4
Bulgaria (Bulgarian title) - Страшен филм 4
Brazil - Todo Mundo em Pânico 4
Canada (French title) - Film de peur 4
Denmark - Scary Movie 4
Estonia - Õudne film 4
Finland - Scary Movie 4
France - Scary Movie 4
Greece - Scary Movie 4
Croatia - Mrak film 4
Hungary - Horrorra akadva 4.
Israel (Hebrew title) - Met litz'ok 4
Italy - Scary Movie 4
Lithuania - Pats baisiausias filmas 4
Mexico - Scary movie 4: Descuartizados de miedo
Poland - Straszny film 4
Portugal - Scary Movie 4 - Que Susto de Filme!
Serbia - Mrak film 4
Russia - Очень страшное кино 4
Turkey (Turkish title) - Korkunç bir film 4
Venezuela - Scary movie 4 - Descuartizados de miedo
Acteurs :
Cast 
Anna Faris Cindy
Regina Hall Brenda
Craig Bierko Tom
Bill Pullman Henry Hale
Anthony Anderson Mahalik
Leslie Nielsen President Baxter Harris
Molly Shannon Marilyn
Michael Madsen Oliver
Chris Elliott Ezekiel
Carmen Electra Holly
Shaquille O'Neal Shaq
Phil McGraw Dr Phil (as Dr Phil McGraw)
Cloris Leachman Mrs Norris
Conchita Campbell Rachel
Beau Mirchoff Robbie
Kevin Hart CJ
DeRay Davis Marvin
Simon Rex George
Youngbloodz Youngbloodz
Bryan Callen Harper
Alonzo Bodden Jamison
Dave Attell Knifeman
Holly Madison Blonde #1
Bridget Marquardt Blonde #2
Kendra Wilkinson Blonde #3
Drew Mikuska Cody
Chingy Chingy
Fabolous Gunman
Lil Jon Gloating Driver
Henry Mah Mr Koji
Garrett Masuda Japanese Ghost Boy
John Reardon Jeremiah
Campbell Lane Amos
Catherine Barroll Female Elder #1
Anna Ferguson Female Elder #2
Sean Allan Male Elder #2
Ralph Alderman Male Elder #3
Brad Sihvon 'His Brother, The Sheriff!'
Dave Leach Mordecai
Andrew McNee Hoss
Tomoko Sato Japanese Ghost Woman
Edward Moss Michael Jackson
Dru Williams Cindy's Husband
Debra Wilson Oprah
Laura Dash Saw Villain - Alien
David Mylrea Zoltar /'I'll Pay You'
Craig Mazin Saw Villain (voice)
David Zucker Zoltar (voice)
Michael McDonald Tiffany Stone
Champagne Powell Don King
Steve Archer Secret Service Agent
Tim Henry Dock Foreman
Alex Bruhanski Tiffany's Trainer
Doug Abrahams Fight Referee
Blaine Anderson Vendor at Fight
Dale Wolfe Hang Gliding Man
Ann Warn Pegg 'Were You Naked?'
Jessica McLeod Little Girl
David MacKay 'Alien Attack!'
Tony Ali Terrorist
Jana Mitsoula Running Woman #1
Sharon Simms Running Woman #2
Mark Burgess 'My Bowels Have Stopped Moving!'
Wes Taylor Marilyn's New Husband
Gwenda Lorenzetti Mr Koji's Assistant
Brenda McDonald Old Lady Henderson
Tim O'Halloran Pigface Joe
Darren Rizzolo Spit Take Kid #1
Adam Cannel Spit Take Kid #2
Sadie Decoste Spit Take Kid #3
Michelle Grigor Spit Take Kid #4
Leandro Iddrisu Spit Take Kid #5
Justin Callan Spit Take Kid #6
Crystal Lowe Chingy's Girl #1
Christie Laing Chingy's Girl #2
Angelique Naude Chingy's Really Hot Waitress
Dexter Bell Chingy's Hype Man
Beverley Breuer Blonde Woman in Alien Basket (as Beverly Breuer)
Scott Barratt Fight Announcer
Barry W Levy National Spokesman (as Barry Levy)
Darryl Scheelar Shotgun Man
Rorelee Tio Yoko
Steve Kiziak Tom's Neighbor #1
Link Baker Tom's Neighbor #2
Kimberley Buchanan Tom's Neighbor #3
Kathryn Dobbs School Teacher
Tony Morelli Ball Scratcher
Tina Hosford Wet T-Shirt Girl #1
Elisa King Wet T-Shirt Girl #2
Andrea Morrow Wet T-Shirt Girl #3
Monica Dillon Mahalik's Grandmother
Sarah Edmondson Bar Waitress
Kwesi Ameyaw Soldier
Ted Friend Reporter
Daniel Bruce Belgian Minister
Chic Gibson UN Diplomat #1
Robbie Segulam UN Diplomat #2
Nimet Kanji UN Diplomat #3
Gabriela Cerecero UN Diplomat #4
Michael Ikeda UN Diplomat #5
Mina E Mina UN Diplomat #6
Ahmad Sharmrou UN Diplomat #7
Steadwick D'Penha UN Diplomat #8
Gregory Bennett Russian Diplomat
Uget Ebony UN Diplomat #10
George Grove Doctor
Amber Borycki Dancer (uncredited)
James Earl Jones Narrator (uncredited)
Patrice O'Neal Rasheed (uncredited)
Yaroslav Poverlo Belgian Representative in UN (uncredited)
Charlie Sheen Tom Logan (uncredited)
Kimani Ray Smith Cut Man (uncredited)
Mashiah Vaughn-Hulbert Principal (uncredited)
Chris Williams Marcus (uncredited)
Aucun commentaire pour l'instant.
Toutes les informations proviennent du site http://www.imdb.com
Cette page a été vue 2466 fois.