SACRIFICES (1989)
FICHE
| CRITIQUE(S) |
PHOTOS (13)
| NEWS | DVDS | VIDEOS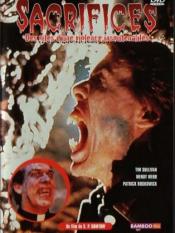 Le Père O'SULLIVAN (Tim SULLIVAN), protecteur des adolescents en difficulté, organise un voyage au Mexique à vocation ethnologique, devant se dérouler durant la fameuse Fête des Morts. Au cours du trajet, il retrouve une jeune femme dont il fut éperdument épris avant d'entrer dans les ordres, et dont l'enfant s'avère être le fils caché du prêtre. Parvenus à destination, les voyageurs se trouvent confrontés à une secte dirigée par le Docteur Um-Tzec (S.P. SOMTOW), adepte des vieux rites Aztèques et grand amateur de sacrifices humains. Le Père O'Sullivan, voulant exorciser une villageoise possédée par un démon, tombe lui-même sous l'emprise de l'esprit maléfique, et se met à dégommer consciencieusement ses compagnons de voyage.
Titre original : THE LAUGHING DEAD
Réalisateur(s) :
Somtow Sucharitkul
Scénariste(s) : Somtow Sucharitkul (writer)
Genre(s) : Horror
Année : 1989
Pays : USA
Langue(s) : English
Couleur : Color
Son : Stereo
Autre(s) Titre(s) :
(original title) - The Laughing Dead
Brazil - Ritual Macabro
France - Sacrifices
Hungary - A halál istene
Acteurs :
Cast 
Tim Sullivan Father O' Sullivan
Wendy Webb Tessie
Premika Eaton Laurie
Patrick Roskowick Ivan
Larry Kagen Wilbur
Krista Keim Clarisse
Gregory Frost Frost
Raymond Ridenour Dozois
Ryan Effner Cal
Joey Acedo Policeman #1
John Anthoni Acolyte #1
Hank Azcona Police Sergeant
Bruce Barlow
George Barnett Policeman #2
Edward Bryant Bus Driver
Michael Bustamante Boy In Graveyard
Matt Demeritt
Erica Frank Counter Girl
Timpson Hill Acolyte #2
Lydia Marano Attendant
George Salazar Estrada
Billy Silver Tommy
Somtow Sucharitkul Dr Um-tzec
Vanina Sucharitkul Minquita
Maritza Tamara Corazon
Juanita Vera Old Woman
Amy Andrews Bus Passenger #1
Richard Bonnin Bus Passenger #2
Deborah Hansen Bus Passenger #3
Russell Marshall Bus Passenger #4
Jim Albert Basketball Player #1
Alex Alvarez Basketball Player #2
Richard Pena Basketball Player #3
Arthur Byron Cover Zombie #1
Tim Powers Zombie #2
Brynne Stephens Zombie #3
William F Wu Zombie #4
Wyatt Weed Zombie #5
Martin Weiss Zombie #6
Kirk Mouser Zombie #7
Forrest J Ackerman Corpse #1
Bill Warren Corpse #2
Len Wein Corpse #3
Beverly Warren Corpse #4
Rogan Russell Marshall (uncredited)
Aucun commentaire pour l'instant.
Toutes les informations proviennent du site http://www.imdb.com
Cette page a été vue 6364 fois.