ROUTE, LA (2009)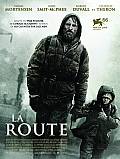 Il y a maintenant plus de dix ans que le monde a explosé. Personne ne sait ce qui s'est passé. Ceux qui ont survécu se souviennent d'un gigantesque éclair aveuglant, et puis plus rien. Plus d'énergie, plus de végétation, plus de nourriture... Les derniers survivants rôdent dans un monde dévasté et couvert de cendre qui n'est plus que l'ombre de ce qu'il fut.
C'est dans ce décor d'apocalypse qu'un père et son fils errent en poussant devant eux un caddie rempli d'objets hétéroclites – le peu qu'ils ont pu sauver et qu'ils doivent protéger. Ils sont sur leurs gardes, le danger guette. L'humanité est retournée à la barbarie. Alors qu'ils suivent une ancienne autoroute menant vers l'ouest et l'océan, le père se souvient de sa femme et le jeune garçon découvre les restes de ce qui fut la civilisation.
Durant leur périple, ils vont faire des rencontres, dangereuses et fascinantes. Même si le père n'a plus ni but ni espoir, il s'efforce de rester debout pour celui qui est désormais son seul univers.
Titre original : THE ROAD
Réalisateur(s) :
John Hillcoat
Scénariste(s) : Cormac McCarthy, Joe Penhall
Année : 2009
Pays : USA
Langue(s) : English
Couleur : Color
Ratio : 2.35 : 1
Son : DTS| Dolby Digital| SDDS
Sortie France : 2009-12-02
Autre(s) Titre(s) :
The Road - USA (original title)
La carretera - Argentina (imdb display title) / Chile (imdb display title) / Spain (imdb display title) / Uruguay (imdb display title)
Cesta - Croatia / Czech Republic / Slovenia
A Estrada - Brazil / Portugal
La route - Canada (French title) / France
The Road - Denmark (imdb display title) / Japan (English title)
Vägen - Finland (imdb display title) (Swedish title) / Sweden
Ο Δρόμος - Greece
Дорога - Russia
Az út - Hungary (imdb display title)
Droga - Poland (imdb display title)
El último camino - Peru (imdb display title)
El ultimo camino - Mexico
Ha'dereh - Israel (alternative title) (Hebrew title)
O dromos - Greece (transliterated ISO-LATIN-1 title)
Put - Serbia (imdb display title)
Tee - Estonia (imdb display title)
Tie - Finland
Yol - Turkey (imdb display title) (Turkish title)
Acteurs :
Viggo Mortensen - Man
Kodi Smit-McPhee - Boy
Robert Duvall - Old Man
Guy Pearce - Veteran
Molly Parker - Motherly Woman
Michael Kenneth Williams - Thief
Garret Dillahunt - Gang Member
Charlize Theron - Woman
Bob Jennings - Bearded Man
Agnes Herrmann - Archer's Woman
Buddy Sosthand - Archer
Kirk Brown - Bearded Face
Jack Erdie - Bearded Man #2
David August Lindauer - Man On Mattress
Gina Preciado - Well Fed Woman
Mary Rawson - Well Fed Woman #2
Jeremy Ambler - Man In Cellar #1 (uncredited)
Aaron Bernard - Militant (uncredited)
Kacey Byrne-Houser - Woman In Cellar (uncredited)
Jarrod DiGiorgi - Well Fed Man (uncredited)
Paul Hodge - Militant (uncredited)
Chaz Moneypenny - Man In Cellar #2 (uncredited)
Nick Pasqual - Militant (uncredited)
Paul J. Rosenburg - Cannibal (uncredited)
Brenna Roth - Road Gang Member (uncredited)
Mark Tierno - Baby Eater (uncredited)

Aucun commentaire pour l'instant.
Toutes les informations proviennent du site http://www.imdb.com
Cette page a été vue 6071 fois.