RETOUR DES MORTS VIVANTS, LE (1985)
FICHE
| CRITIQUE(S) |
PHOTOS (23)
| NEWS | DVDS | VIDEOS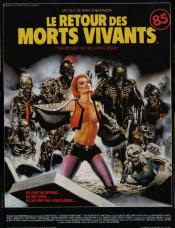 Franck et Freddy libèrent par inadvertance un gaz toxique ramenant les morts à la vie. Ainsi pour ce débarrasser d'un cadavre réanimé, ils l'incinèrent. Malheureusement, le nuage de fumée crée une pluie qui s'abat sur un cimetière, provoquant le réveil d'autres macchabées...
Titre original : THE RETURN OF THE LIVING DEAD
Réalisateur(s) :
Dan O'Bannon
Scénariste(s) : Rudy Ricci (story) &, John A Russo (story) (as John Russo) &, Russell Streiner (story),  , Dan O'Bannon (screenplay)
Genre(s) : Comedy | Horror
Durée : 91 min
Année : 1985
Pays : USA
Langue(s) : English
Couleur : Color
Ratio : 185 : 1
Son : Mono
Sortie France : 1985-05-15
Sortie US : 1985-08-16
Autre(s) Titre(s) :
(original title) - The Return of the Living Dead
Argentina - El Regreso de los Muertos Vivos
Argentina (alternative title) - El regreso de los muertos vivientes
Bulgaria (Bulgarian title) - Завръщането на живите мъртви
Brazil - A Volta dos Mortos Vivos
Brazil (cable TV title) - O Retorno dos Mortos Vivos
Denmark - Ligene er ligeglade
Spain - El regreso de los muertos vivientes
Finland - Elävien kuolleiden paluu
France - Le retour des morts vivants
Greece (transliterated ISO-LATIN-1 title) - Ta zombi den einai hortofaga
Greece - Τα Ζόμπι Δεν Είναι Χορτοφάγα
Hungary (alternative title) - A halál visszatér
Hungary - Az élőhalottak visszatérnek
Italy - Il ritorno dei morti viventi
Japan (English title) - 'Batallion'
Japan (English title) - Battalion
Mexico - El regreso de los muertos vivientes
Netherlands (informal literal title) - Ze zijn terug en hebben honger
Peru - El regreso de los muertos vivientes
Poland - Powrót zywych trupów
Portugal - O Regresso dos Mortos Vivos
Serbia - Povratak živih mrtvaca
Soviet Union (Russian title) - Вoзвращение живых мертвецов
USA (video box title) - Return of the Living Dead
Venezuela - El regreso de los muertos vivientes
West Germany - Verdammt, die Zombies kommen
Acteurs :
Cast 
Clu Gulager Burt
James Karen Frank
Don Calfa Ernie
Thom Mathews Freddy
Beverly Randolph Tina
John Philbin Chuck
Jewel Shepard Casey
Miguel A Núñez Jr Spider (as Miguel Nunez)
Brian Peck Scuz
Linnea Quigley Trash
Mark Venturini Suicide
Jonathan Terry Colonel Glover
Cathleen Cordell Colonel's Wife
Drew Deighan Paramedic #1
James Dalesandro Paramedic #2
John Durbin Radio Corpse #1
David Bond Radio Corpse #2
Bob Libman Tac Squad Captain
John Stuart West Riot Cop #1
Michael Crabtree Riot Cop #2
Ed Krieger Riot Cop #3
Robert Craighead Cop #1
Paul Cloud Cop #2
Derrick Brice Gunnery Sergeant
Leigh Drake Dispatcher
Terrence Houlihan Yellow Cadaver (as Terrence M Houlihan)
Allan Trautman Tarman
Robert J Bennett Headless Tarman (as Robert Bennett)
Jerome 'Daniels' Coleman Legless Corpse
Cherry Davis ½ Lady Corpse
Rick Askew Officer (uncredited)
Leslee Bremmer (uncredited)
Jason Novak Little Zombie (uncredited)
Dan O'Bannon Helicopter Loudspeaker Officer /Bum Outside Warehouse (voice) (uncredited)
Larry Odien Yellow Zombie (uncredited)
William Stout Bum with Shopping Cart (uncredited)
Toutes les informations proviennent du site http://www.imdb.com
Cette page a été vue 3120 fois.