POLTERGEIST II - THE OTHER SIDE (1986)
FICHE
| CRITIQUE(S) |
PHOTOS (1)
| NEWS | DVDS | VIDEOS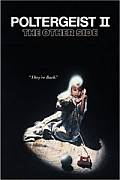 Un orage magnétique déclenche à nouveau l'horreur sur la famille Freeling qui, une fois de plus, est la proie des Poltergeist...
Titre original : POLTERGEIST II: THE OTHER SIDE
Réalisateur(s) :
Brian Gibson
Scénariste(s) : Michael Grais (written by), Mark Victor (written by)
Genre(s) : Horror
Durée : 91 min | 130 min (original cut)
Année : 1986
Pays : USA
Langue(s) : English
Couleur : Color(Metrocolor)
Ratio : 235 : 1
Son : Dolby
Sortie France : 1986-08-20
Sortie US : 1986-05-23
Autre(s) Titre(s) :
(original title) - Poltergeist II: The Other Side
Argentina - Poltergeist II: El otro lado
Australia (TV title) - Poltergeist 2
Bulgaria (Bulgarian title) - Полтъргайст II: От другата страна
Brazil - Poltergeist 2 - O Outro Lado
Denmark - Poltergeist II
Spain - Poltergeist II: El otro lado
Finland - Poltergeist II
France - Poltergeist II
Greece (transliterated ISO-LATIN-1 title) - To pnevma tou daimona
Hungary - Kopogó szellem 2.
Italy - Poltergeist II - L'altra dimensione
Mexico - Juegos diabólicos II
Netherlands (informal literal title) - Poltergeist II - Ze zijn terug
Peru - Poltergeist II: El otro lado
Peru - Poltergeist II: La otra dimensión
Poland - Duch II: Druga strona
Portugal - Poltergeist II: O Outro Lado
Soviet Union (Russian title) - Полтергейст 2: Обратная сторона
Turkey (Turkish title) - Kötü ruh 2
USA (short title) - Poltergeist II
West Germany - Poltergeist II - Die andere Seite
Acteurs :
Cast 
JoBeth Williams Diane Freeling (as Jobeth Williams)
Craig T Nelson Steve Freeling
Heather O'Rourke Carol Anne Freeling
Oliver Robins Robbie Freeling
Zelda Rubinstein Tangina Barrons
Will Sampson Taylor
Julian Beck Kane
Geraldine Fitzgerald Gramma-Jess
John P Whitecloud Old Indian
Noble Craig Vomit Creature
Susan Peretz Daughter
Helen Boll Mother
Kelly Jean Peters Young Jess
Jaclyn-Rose Lester Young Diane (as Jaclyn Bernstein)
Robert Lesser Kane's People
Jamie Abbott Kane's People
Ann Louise Bardach Kane's People
Syd Beard Kane's People
David Beaman Kane's People
Hayley Taylor Kane's People (as Hayley Taylor-Block)
Pamela Gordon Kane's People
Chelsea Hertford Kane's People
Whit Hertford Kane's People (as Whitby Hertford)
Rocky Krakoff Kane's People
Carrie Lorraine Kane's People
Kathy Wagner Kane's People
Bill Schroeder Kane's People
Corey Burton Reverend Henry Kane (voice) (uncredited)
Aucun commentaire pour l'instant.
Toutes les informations proviennent du site http://www.imdb.com
Cette page a été vue 6535 fois.