PLANETE HURLANTE 2 (2009)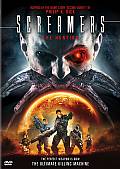 Dans un futur proche, une unité militaire part en expédition sur une planète déserte, Sirius 6B. Déterminés à faire la lumière sur le mystère qui entoure l'extinction de la vie sur cette planète abandonnée, les spécialistes découvrent l'existence des Screamers : des robots autonomes enfouis dans le sol qui détectent tout ce qui vit et l'exterminent aussitôt...
Titre original : SCREAMERS: THE HUNTING
Réalisateur(s) :
Sheldon Wilson
Scénariste(s) : Philip K Dick (inspired by the short story 'Second Variety' by),  , Tom Berry (story),  , Miguel Tejada-Flores (screenplay),  , Miguel Tejada-Flores (story)
Genre(s) : Action | Horror | Sci-Fi
Durée : 95 min
Année : 2009
Pays : Canada
Langue(s) : English
Couleur : Color
Ratio : 178 : 1
Son : Dolby Digital
Sortie US : 2009-02-17
Autre(s) Titre(s) :
(original title) - Screamers: The Hunting
Argentina - Screamers - La cacería
Brazil - Screamers - A Caçada
Spain - Screamers: Asesinos cibernéticos 2
Finland - Screamers the hunting
France - Planète hurlante 2
Greece - Screamers: The Hunting
Greece (TV title) - Screamers: To kynigi
Hungary - Az elhagyott bolygó 2.
Italy - Screamers 2 - L'evoluzione
Poland - Tajemnica Syriusza: Polowanie
Portugal - Screamers - Gritos Mortais: A Caçada
Serbia - Vrištavci 2: Lov
USA (working title) - Screamers 2
Acteurs :
Cast 
Gina Holden Lt Victoria Bronte
Jana Pallaske Schwartz
Lance Henriksen Orsow
Greg Bryk Cmdr Andy Sexton
Christopher Redman Rafe Danielli
Tim Rozon Madden
Dave Lapommeray Sgt Romulo (as Dave La Pommeray)
Jody Richardson Soderquist
Stephen Amell Guy
Holly O'Brien Hannah
Darryl Hopkins Dwight
Steve Lush Bryce
Stephen Dunn Teenage Screamer Boy 1
Justin Madol Teenage Screamer Boy 2
Sarah Small Teenage Screamer Girl
Lynley Hall Jessie
Shaun Johnston Haggard Man
Ruth Lawrence Cave Woman
Edward Quinlan Short Man
Toutes les informations proviennent du site http://www.imdb.com
Cette page a été vue 4592 fois.