Filmographie de : Octavio Michel
Actrice / Acteur :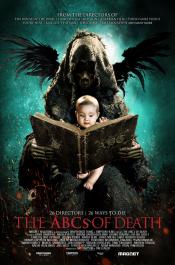 THE ABCS OF DEATH
, de
Kaare Andrews
(segment 'V is for Vagitus'),
Angela Bettis
(segment 'E is for Exterminate'),
Hélène Cattet
(segment 'O is for Orgasm'),
Ernesto Díaz Espinoza
(segment 'C is for Cycle'),
Jason Eisener
(segment 'Y Is for Youngbuck'),
Bruno Forzani
(segment 'O is for Orgasm'),
Adrián García Bogliano
(segment 'B Is for Bigfoot'),
Xavier Gens
(segment 'X Is for XXL'),
Jorge Michel Grau
(segment 'I is for Ingrown'),
Lee Hardcastle
(segment 'T Is for Toilet'),
Noboru Iguchi
(segment 'F is for Fart'),
Thomas Cappelen Malling
(segment 'H is for Hydro-Electric Diffusion'),
Anders Morgenthaler
(segment 'K is for Klutz'),
Yoshihiro Nishimura
(segment 'Z is for Zetsumetsu'),
Banjong Pisanthanakun
(segment 'N is for Nuptials'),
Simon Rumley
(segment 'P Is for Pressure'),
Marcel Sarmiento
(segment 'D Is for Dogfight'),
Jon Schnepp
(segment 'W is for WTF?'),
Srdjan Spasojevic
(segment 'R Is for Removed'),
Timo Tjahjanto
(segment 'L is for Libido'),
Andrew Traucki
(segment 'G is for Gravity'),
Nacho Vigalondo
(segment 'A Is for Apocalypse'),
Jake West
(segment 'S is for Speed'),
Ti West
(segment 'M Is for Miscarriage'),
Ben Wheatley
(segment 'U Is for Unearthed'),
Adam Wingard
(segment 'Q Is for Quack'),
Yudai Yamaguchi
(segment 'J is for Jidai-geki'), 2012
26 lettres. 26 réalisateurs. 26 façons de mourir. Un abécédaire de la Mort frénétique et extrême....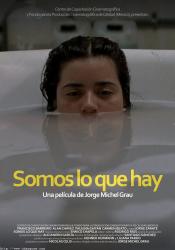 NOUS SOMMES CE QUE NOUS SOMMES
(Somos lo que hay), de
Jorge Michel Grau
, 2010
Un homme d'âge mûr meurt dans la rue, laissant sa femme et ses trois enfants rongés par le mal cannibale. La famille éprouvée doit assurer sa survie. Jusqu'à présent, les victimes ont toujours été fournies par le père. Maintenant qu'il est mort, qui va prendre la relève ?...