NEUVIEME PORTE, LA (1999)
FICHE
| CRITIQUE(S) | PHOTOS | NEWS | DVDS |
VIDEOS (5)
|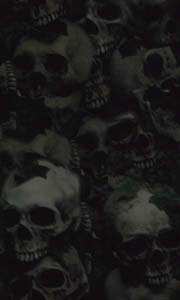 Dean Corso est un chercheur de livres rares pour collectionneurs fortunes. Sa reputation lui vaut d'etre engage par un eminent bibliophile, feru de demonologie, Boris Balkan, qui lui demande de traquer les deux derniers exemplaires du legendaire manuel d'invocation satanique, "les Neuf Portes du royaume des ombres". Corso releve le defi. De New York a Tolede, de Paris a Cintra, il s'enfonce dans un labyrinthe seme de pieges et de tentations. Il va peu a peu decrypter les enigmes du livre maudit et decouvrir le veritable enjeu de sa mission.
Titre original : THE NINTH GATE
Réalisateur(s) :
Roman Polanski
Scénariste(s) : Arturo Pérez-Reverte, John Brownjohn
Année : 1999
Pays : Spain | France | USA
Langue(s) : English | French | Latin | Portuguese | Spanish
Couleur : Color
Ratio : 2.35 : 1
Son : Dolby Digital
Sortie France : 1999-08-25
Autre(s) Titre(s) :
The Ninth Gate - Spain (original title)
Die neun Pforten - Austria / Germany
La última puerta - Argentina / Peru (imdb display title)
La neuvième porte - Canada (French title) / France
Девятые врата - Russia
9. kapi - Turkey (Turkish title)
A Nona Porta - Portugal
A kilencedik kapu - Hungary
Den niende porten - Norway
Deveta kapija - Serbia (imdb display title)
Deveta vrata - Croatia
Dziewiate wrota - Poland
I enati pyli - Greece (transliterated ISO-LATIN-1 title)
La nona porta - Italy
La novena puerta - Spain
Nionde porten - Finland (Swedish title)
O Último Portal - Brazil
The Ninth Gate - Denmark
Yhdeksäs portti - Finland
Acteurs :
Johnny Depp - Dean Corso
Frank Langella - Boris Balkan
Lena Olin - Liana Telfer
Emmanuelle Seigner - The Girl
Barbara Jefford - Baroness Kessler
Jack Taylor - Victor Fargas
José López Rodero - Pablo & Pedro Ceniza / 1st & 2nd Workmen (as Jose Lopez Rodero)
Tony Amoni - Liana's Bodyguard
James Russo - Bernie
Willy Holt - Andrew Telfer
Allen Garfield - Witkin
Jacques Dacqmine - Old Man
Joe Sheridan - Old Man's Son
Rebecca Pauly - Daughter-In-Law
Catherine Benguigui - Concierge
Maria Ducceschi - Secretary
Jacques Collard - Gruber
Dominique Pozzetto - Desk Clerk
Emanuel Booz - Baker (as Emmanuel Booz)
Lino Ribeiro de Sousa - Hotel Porter (as Lino Ribeiro De Sousa)
Asil Raïs - Cabby (as Asil Rais)
Bernard Richier - Cafe Owner
Marinette Richier - Cafe Owner
Diane Hawkins
Jane Bradbury - Demon (uncredited)
Samuel de Luze - Extra (uncredited)
Christopher Goodman - American Businessman (uncredited)
Lee Michelsen - Homeless (uncredited)
Jacquelyn Toman - (uncredited)

Aucun commentaire pour l'instant.
Toutes les informations proviennent du site http://www.imdb.com
Cette page a été vue 1555 fois.