MILLENIUM (2009)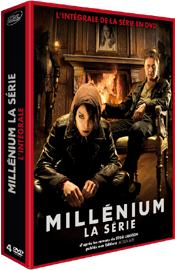 Journaliste au magazine Millenium, Mikael Blomkvist est engagé par Henrik Vanger afin d'élucider le meurtre de sa nièce Harriet qui a eu lieu 40 ans auparavant. Dans le cadre de son enquête sur cette famille bien plus étrange qu'il n'y parait, il va faire la rencontre de Lisbeth Salander, hackeuse de génie au caractère et à la personnalité bien trempés.
Leur enquête va révéler beaucoup plus que ce que chacun aurait pu imaginer...
Un an plus tard, lorsque Lisbeth se retrouve prise au piège d'une manipulation très planifiée, Mikael va tout faire pour l'innocenter...
Titre original : MAN SOM HATAR KVINNOR
Réalisateur(s) :
Niels Arden Oplev
Scénariste(s) : Nikolaj Arcel, Rasmus Heisterberg
Année : 2009
Pays : Sweden | Denmark | Germany | Norway
Langue(s) : Swedish | English
Couleur : Color
Ratio : 2.35 : 1
Son : Dolby Digital
Sortie France : 2009-05-13
Autre(s) Titre(s) :
Män som hatar kvinnor - Sweden (original title)
Los hombres que no amaban a las mujeres - Argentina / Colombia / Mexico (imdb display title) / Uruguay (imdb display title) / Venezuela (imdb display title)
The Girl with the Dragon Tattoo - International (English title) / UK (imdb display title) / USA (imdb display title)
Men Who Hate Women - International (literal English title) / Sweden (literal English title)
Millennium 1: Los hombres que no amaban a las mujeres - Spain (imdb display title) / Spain (imdb display title) (Castilian title)
Το Κορίτσι με το Τατουάζ - Greece
Девушка с татуировкой дракона - Russia
A tetovált lány - Hungary (imdb display title)
A tetovált lány - A korrupció és a gonoszság anatómiája - Hungary (long title)
Dekle z zmajskim tatujem - Slovenia (imdb display title)
Devojka sa tetovažom zmaja - Serbia
Ejderha dövmeli kiz - Turkey (imdb display title) (Turkish title)
Girl with a Dragon Tattoo - Israel (English title)
Karlar sem hata konur - Iceland
Lohetätoveeringuga tüdruk - Estonia
Mænd der hader kvinder - Denmark
Menn som hater kvinner - Norway
Miehet jotka vihaavat naisia - Finland
Millénium - France
Millénium - Le film - Canada (French title)
Millénium, le film - France (poster title)
Millenium, les hommes qui n'aimaient pas les femmes - France (closing credits title)
Millennium 1. Os Homens que Odeiam as Mulheres - Portugal
Millennium: Mezczyzni, którzy nienawidza kobiet - Poland
Millennium: mannen die vrouwen haten - Netherlands (informal literal title)
Muškarci koji mrze žene - Croatia
Os Homens Que Não Amavam As Mulheres - Brazil
To koritsi me to tatouage - Greece (transliterated ISO-LATIN-1 title)
Uomini che odiano le donne - Italy
Verblendung - Germany
Acteurs :
Michael Nyqvist - Mikael Blomkvist
Noomi Rapace - Lisbeth Salander
Lena Endre - Erika Berger
Sven-Bertil Taube - Henrik Vanger
Peter Haber - Martin Vanger
Peter Andersson - Nils Bjurman
Marika Lagercrantz - Cecilia Vanger
Ingvar Hirdwall - Dirch Frode
Björn Granath - Gustav Morell
Ewa Fröling - Harriet Vanger
Michalis Koutsogiannakis - Dragan Armanskij
Annika Hallin - Annika Giannini
Sofia Ledarp - Malin Eriksson
Tomas Köhler - 'Plague'
David Dencik - Janne Dahlman
Stefan Sauk - Hans-Erik Wennerström
Gösta Bredefeldt - Harald Vanger
Fredrik Ohlsson - Gunnar Brännlund
Jacob Ericksson - Christer Malm
Gunnel Lindblom - Isabella Vanger
Barbro Enberg - Older lady
Reuben Sallmander - Enrico Giannini
Yasmine Garbi - Miriam Wu
Georgi Staykov - Alexander Zalachenko
Nina Norén - Agneta Salander
Emil Almén - Police officer
Louise Ryme - Receptionist
Pale Olofsson - Judge
Mikael Rahm - Editor
Willie Andréason - Birger Vanger
Lennart R. Svensson - Police officer in woods
Karl Oscar Törnros - Huligan #1 (as Carl Oscar Törnros)
Kalled Mustonen - Huligan #2 (as Kalled Mustonnen)
Henrik Knutsson - Huligan #3
Alexandra Pascalidou - TV-reporter
Tehilla Blad - Young Lisbeth Salander (as Theilla Bladh)
Julia Sporre - Young Harriet Vanger
Laura Lind - Jennie Giannini
Isabella Isacson - Monica Giannini
Magnus Stenius - Prison Guard
Daniel Abreu - Extra (uncredited)
Linn Björlund - Young Anita Vanger (uncredited)
Sofia Brattwall - Marie (uncredited)
Christian Fiedler - Otto Falk (uncredited)
Alexandra Hummingson - Murder victim (uncredited)
Jan Mybrand - Economic director (uncredited)
Margareta Stone - Birgit Falk (uncredited)
Lisbeth Åkerman - TV-reporter (uncredited)

Aucun commentaire pour l'instant.
Toutes les informations proviennent du site http://www.imdb.com
Cette page a été vue 3159 fois.