LIMITLESS (2011)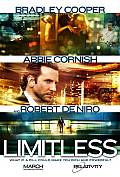 Eddie Morra rêve d'écrire, mais l'angoisse de la page blanche le paralyse. Sa vie sans éclat bascule lorsqu'un ami lui fait découvrir le NZT, un produit pharmaceutique révolutionnaire qui lui permet d'exploiter son potentiel au maximum. Eddie peut désormais se souvenir de tout ce qu'il a lu, vu ou entendu ; il peut apprendre n'importe quelle langue en une journée, résoudre des équations complexes et subjuguer tous ceux qu'il rencontre – tant qu'il reste sous l'influence de cette substance qui n'a pas encore été testée.
Très vite, Eddie fait aussi merveille à Wall Street, où ses prouesses attirent l'attention de Carl Van Loon, un puissant magnat de la finance, qui lui propose de négocier la plus grosse fusion de l'histoire. Eddie ignore encore que des gens sont désormais prêts à tout pour mettre la main sur son stock de NZT. Alors qu'il découvre le danger, il doit aussi affronter les terribles effets secondaires du produit. Pour survivre à ceux qui le pourchassent de toutes parts, Eddie puise de plus en plus dans ses réserves. En aura-t-il suffisamment pour se montrer plus intelligent que tous ses ennemis ?
Titre original : LIMITLESS
Réalisateur(s) :
Neil Burger
Scénariste(s) : Leslie Dixon (screenplay),  , Alan Glynn (novel 'The Dark Fields')
Genre(s) : Mystery | Sci-Fi | Thriller
Durée : 105 min
Année : 2011
Pays : USA
Langue(s) : English | Russian | Italian | Mandarin | French
Couleur : Color
Ratio : 235 : 1
Son : Dolby Digital| DTS| SDDS
Sortie France : 2011-06-08
Sortie US : 2011-03-18
Autre(s) Titre(s) :
Argentina - Sin Límites
Bosnia and Herzegovina (Croatian title) - Bezgranicno
Bulgaria (Bulgarian title) - Високо напрежение
Brazil - Sem Limites
Canada (French title) - Sans limites
Chile - Sin límites
Colombia - Sin límites
Czech Republic - Vsemocný
Germany - Ohne Limit
Spain - Sin límites
Finland - Rajaton
France - Limitless
Greece (transliterated ISO-LATIN-1 title) - Apolyti efyia
Greece - Απόλυτη ευφυΐα
Croatia - Savršena formula
Hungary - Csúcshatás
Israel (Hebrew title) - Lelo gvulot
Lithuania - Salutinis efektas
Peru - Sin límites
Poland - Jestem Bogiem
Portugal - Sem Limites
Romania - Dincolo de limite
Serbia - Bez ograničenja
Russia - Области тьмы
Slovenia - Odklenjen
Turkey (Turkish title) - Limit Yok
Ukraine - Областi темряви
USA (working title) - The Dark Fields
Uruguay (video title) - Sin límites
Acteurs :
Cast 
Bradley Cooper Eddie Morra
Robert De Niro Carl Van Loon
Abbie Cornish Lindy
Andrew Howard Gennady
Anna Friel Melissa
Johnny Whitworth Vernon
Tomas Arana Man in Tan Coat
Robert John Burke Pierce
Darren Goldstein Kevin Doyle
Ned Eisenberg Morris Brandt
TV Carpio Valerie
Richard Bekins Hank Atwood
Patricia Kalember Mrs Atwood
Cindy Katz Marla Sutton
Brian Anthony Wilson Detective (as Brian A Wilson)
Rebecca Dayan Rebecca Dayan
Ann Marie Green Financial Newscaster
Damali Mason Female Cop
Meg McCrossen Female Assistant
Tom Bloom Dunham
Nina Hodoruk Realtor
Tom Teti Tailor
Stephanie Humphrey TV News Reporter
Joe B McCarthy Day Trader #1 (as Joe McCarthy)
Peter Pryor Day Trader #2
Daniel Breaker Campaign Manager
Chris McMullin Cop
Dave Droxler Technician
Luisina Quarleri Italian Hostess /Waitress
Piper Brown Girl Skater
Simon MacLean Father Skater
Saxon Palmer Businessman #1
Stephen Sable Businessman #2
Caroline Maria Winberg Maria Winberg
Damaris Lewis Beautiful Black Woman
Martha Ann Talman Van Loon's Assistant
Robert Bizik Coffee Shop Owner
Hugh Douglas Poker Player #1
Howard Strong Poker Player #2
Arlette de Alba Girl Passenger
Eddie J Fernandez Gennady Thug (as Eddie Fernandez)
Ray Siegle Gennady Blind Thug
Nicolas le Guern Friend at Beach #1
Richard Miller Friend at Beach #2
Violeta Silva Friend at Beach #3
Anna Parkinson Friend at Beach #4
Laurence Roscoe Friend at Beach #5
Muhammed Ali Himself (archive footage) (uncredited)
Brooke Allison Beautiful Socialite (uncredited)
Michael Belveduto Restaurant Patron (uncredited)
Ian Bonner Campaign Volunteer (uncredited)
Tara Broadway Restaurant Patron (uncredited)
Joel Brody Carter (uncredited)
Jennifer Butler Business Woman (uncredited)
Gregory R Campbell Party Goer (uncredited)
Juan Eloy Carrera Campaign Worker (uncredited)
Jim Croft Day Trader (uncredited)
Jason Cutts Man In Police Line-Up (uncredited)
Mary Ellen Driscoll Eddie's Aunt (uncredited)
Ariana Dubynin Partygoer (uncredited)
Robert Eckard Barfly (uncredited)
Cindy Engle Detective (uncredited)
Rosalina Francesca Diner (uncredited)
Jason Furlani Man #2 (uncredited)
Joel Marsh Garland Man 1 (uncredited)
Victoria Gates Business Woman (uncredited)
Danielle Guldin Head Waiter (uncredited)
Andrea Havens Party Guest (uncredited)
Ann-Marie Jordan Volunteer-Political Campaign (uncredited)
Basil Kershner Bar Patron (uncredited)
Steven J Klaszky Restaurant Patron (uncredited)
Ashley Klein Friend in Park (uncredited)
Michael J Kraycik Bartender (uncredited)
Zackary Kresser Upscale party guest (uncredited)
Janice LaFlam Diner (uncredited)
Billy Lee Restaurant Server (uncredited)
Bruce Lee Karate Fighter on TV (archive footage) (uncredited)
Tom Leonard Political Block Captain (uncredited)
Bob Lewandowski Party Guest (uncredited)
Krista Magnusson Pool Party & Dinner Guest (uncredited)
Erica Lynne Marszalek Restaurant Patron (uncredited)
Todd McCall Businessman (uncredited)
Engelia McCullough Volunteer- Political Campaign (uncredited)
Harry Mearing Businessman (uncredited)
Patsy Meck Eddie's Mom (uncredited)
Rana Morrison Carly (uncredited)
Jeffrey Mowery Drunk (uncredited)
Douglas Nelson Day Trader (uncredited)
Sara Painter Morris' Legal Aide (uncredited)
BJ Parker Police Officer (uncredited)
Mihir Pathak Cab Driver (uncredited)
Brian James Pepe Bodyguard #2 (uncredited)
Sandy Perilli Upscale Bar Patron /Business Woman (uncredited)
Mark Pricskett Day Trader (uncredited)
Joseph Queroli Campaign Aide (uncredited)
Chuck Rayner Volunteer - Political Campaign (uncredited)
David Reineke Political candidiate (uncredited)
Robert Rickert Restaurant Patron (uncredited)
Gary Robinson Restaurant Patron (uncredited)
Ricky Roma Pedestrian (uncredited)
Jerry Ross Businessman (uncredited)
Ryan Sandberg Ice Skater (uncredited)
Michelle Santiago Restaurant Patron (uncredited)
Chuck Schanamann Day Trader (uncredited)
Ann Marie Seall Woman in Black Fur (uncredited)
Robert Shearn III Club Dancer (uncredited)
Ashley Shewell Political Campaign Volunteer (uncredited)
David Adam Smith Van Loon Executive (uncredited)
Rita Soto Upscale Diner (uncredited)
Will Souders NYPD Officer (uncredited)
Jay Spadaro Neighbor (uncredited)
Ashley Cynthia Stauffer Office Worker (uncredited)
Ann Talman Van Loon's Assistant (uncredited)
Rob Tode Brandt's Assistant (uncredited)
Uzimann Newsstand (uncredited)
Gabriel Valentino BG (uncredited)
Don Whatley Volunteer (uncredited)
Johnny M Wu Waiter (uncredited)
Joe Zarriello Bell Boy (uncredited)
Robert Zrim Day Trader (uncredited)
Aucun commentaire pour l'instant.
Toutes les informations proviennent du site http://www.imdb.com
Cette page a été vue 1974 fois.