LES CRIMES DE SNOWTOWN (2011)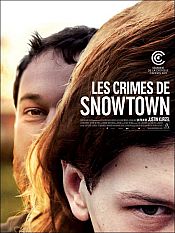 Jamie, âgé de 16 ans, vit avec sa mère Elizabeth et ses deux jeunes frères, Alex et Nicholas, dans un logement de la banlieue nord d'Adelaide. Leur maison ressemble à un vrai taudis. Les lieux sont une véritable zone de non-droit. Du fait de la violence et du désespoir causé par sa situation, Jamie voit une forme de salut en John, un individu charismatique, qui vient lui prêter secours. John dépense de plus en plus de temps avec la famille de Jamie et ramène de la sérénité et un surcroît de stabilité dans ce foyer défavorisé. John devient un protecteur et un mentor pour Jamie. C'est alors qu'il commence à l'endoctriner. Sans même s'en rendre compte, Jamie devient peu à peu à l'image de John, qui s'avère être un tueur en série....
Titre original : SNOWTOWN
Réalisateur(s) :
Justin Kurzel
Scénariste(s) : Shaun Grant (written by),  , Shaun Grant (story) &, Justin Kurzel (story),  , Debi Marshall (book Killing for Pleasure),  , Andrew McGarry (book The Snowtown Murders)
Genre(s) : Biography | Crime | Drama
Durée : 119 min
Année : 2011
Pays : Australia
Langue(s) : English
Couleur : Color
Ratio : 185 : 1
Son : Dolby Digital
Sortie France : 2011-12-28
Sortie US : 2012-03-02
Autre(s) Titre(s) :
(original title) - Snowtown
Germany (DVD title) - Die Morde von Snowtown
France - Les crimes de Snowtown
UK - Snowtown
Greece (festival title) - I poli tou hioniou
Hungary - A Snowtown-i gyilkosságok
Russia - Снежный город
USA - The Snowtown Murders
Acteurs :
Cast 
Lucas Pittaway Jamie Vlassakis
Bob Adriaens Gavin
Louise Harris Elizabeth Harvey
Frank Cwiertniak Jeffrey
Matthew Howard Nicholas
Marcus Howard Alex
Anthony Groves Troy
Richard Green Barry
Aaron Viergever Robert
Denis Davey Guitar Player
Allan Chapple Prayer Reader
Beau Gosling David
Brendan Rock Marcus
Bryan Sellars Minister
Daniel Henshall John Bunting
David Walker Mark Haydon
Aasta Brown Verna
Nigel Howard Man at Dinner
Joanne Argent Woman at Dinner
Astrid Adriaens Woman at Dinner
Keiran Schwerdt Thomas
Craig Coyne Ray
Kathryn Wissell Suzanne
Krystle Flaherty Vikki
Hannah Shelley Vikki's Baby
Andrew Mayers Fred
Gabor Kiss Doctor (as Dr Gabor Kiss)
Carol Smith Doctor's Receptionist
Jenny Hallam Social Worker
Robert Deeble Gary
Aucun commentaire pour l'instant.
Toutes les informations proviennent du site http://www.imdb.com
Cette page a été vue 1866 fois.