LES CHEVAUCHEES AMOUREUSES DE ZORRO (1972)
FICHE
| CRITIQUE(S) | PHOTOS | NEWS |
DVDS (1)
| VIDEOS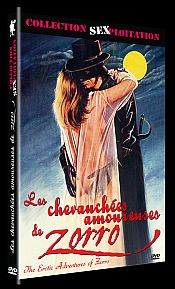 Chaque jour dans la petite ville Espagnole de Los Angeles, des jeunes filles sont dieusement enlevées à leurs familles et livrées aux plaisirs lubriques de Don Luis et de son âme damnée Esteban.
La nuit venue, Zorro, mettant son épée aussi ardente que sa virilité à leur service, les libère.
Leur reconnaissance est immédiate. Un régal d humour et d érotisme.
Titre original : THE EROTIC ADVENTURES OF ZORRO
Réalisateur(s) :

Robert Freeman

(as Col Robert Freeman),

William Allen Castleman

(uncredited)
Scénariste(s) : Robert Freeman (original story) (as Col Robert Freeman),  , Mona Lott (screenplay) &, Joy Boxe (screenplay) &, David F Friedman (screenplay),  , Bob Cresse (additional dialogue) (as Robert W Cresse)
Genre(s) : Action | Adventure | Comedy
Durée : 10 min (heavily cut) (1979)
Année : 1972
Pays : France | USA | West Germany
Langue(s) : English
Couleur : Color(Eastmancolor)
Ratio : 185 : 1
Son : Mono
Sortie US : 1972-11-09
Autre(s) Titre(s) :
(original title) - The Erotic Adventures of Zorro
Denmark - Zorros erotiske eventyr
Finland - Zorron salattu seksuaalielämä
France - Les chevauchées amoureuses de Zorro
UK - The Sexcapades of Don Diego
Greece (transliterated ISO-LATIN-1 title) - Oi erotikes peripeteies tou Zorro
Portugal - As Aventuras Eróticas de Zorro
Venezuela - Las aventuras eróticas de El Zorro
West Germany - Zorro und seine lüsternen Mädchen
Acteurs :
Cast 
Douglas Frey Don Diego /Zorro
Jacqueline Giroux Maria (as Robyn Whitting)
Penny Boran Helena
John Alderman Esteban
Jude Farese Luis Bonasario
Bob Cresse Sgt Felipio Latio (as Robert W Cresse)
Lynn Harris Rosita
Starlyn Simone Margarita (as Michelle Simon)
Bruce Gibson Alejandro
Tony Vorno Frey Felipe (as Sebastian Gregory)
Michael Perrotta Don Manuel (as Mike Perratta)
Ernie Dominy Rodriguez
Allen Bloomfield Commandante of the Academy
Becky Sharpe Graciela (as Becky Perlman)
Kathy Hilton Estralita (as Kathy Kilton)
Gerard Broulard Pablo
Cory Brandon Manuel
David Villa Disfigured Soldier
Fermín Castillo del Muro Chico
Jesus Valdez Ortiz
David F Friedman Soldier with Snake (as David Friedman)
Peggy Church Party Girl with Pablo (uncredited)
George Peters Pablo's Friend (uncredited)
Linda York Lolita (uncredited)
Aucun commentaire pour l'instant.
Toutes les informations proviennent du site http://www.imdb.com
Cette page a été vue 1823 fois.