LE PARFUM - HISTOIRE D'UN MEURTRIER (2006)
FICHE
| CRITIQUE(S) |
PHOTOS (10)
| NEWS | DVDS | VIDEOS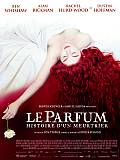 Jean-Baptiste Grenouille naît en 1744. Enfant solitaire, malade, il devient un jeune homme à part grâce à un don unique : son odorat.
Grenouille n'a pas d'autre passion que celle des odeurs, et chaque seconde de sa vie est guidée par ce sens surdéveloppé. Survivant misérablement, il parvient à se faire embaucher comme apprenti chez les maîtres parfumeurs de la capitale. Il découvre alors les techniques
et les secrets de la fabrication des parfums. Son don lui permet de composer quelques chefs-d'oeuvre olfactifs, mais son but ultime devient rapidement la mise au point de la fragrance idéale, celle qui lui permettrait de séduire instantanément tous ceux qui croiseraient son sillage.
Dans sa recherche d'ingrédients, Grenouille est irrésistiblement attiré par le parfum naturel des jeunes filles. Il va aller jusqu'à en tuer beaucoup pour leur voler leur odeur...
Titre original : PERFUME: THE STORY OF A MURDERER
Réalisateur(s) :
Tom Tykwer
Scénariste(s) : Andrew Birkin (screenplay) &, Bernd Eichinger (screenplay) &, Tom Tykwer (screenplay),  , Patrick Süskind (novel 'Das Parfum')
Genre(s) : Crime | Drama | Fantasy
Année : 2006
Pays : Germany | France | Spain
Langue(s) : English
Couleur : Color
Ratio : 235 : 1
Son : Dolby Digital| DTS| SDDS
Sortie France : 2006-10-04
Sortie US : 2007-01-05
Autre(s) Titre(s) :
(original title) - Perfume: The Story of a Murderer
Argentina - Perfume - La historia de un asesino
Belgium (French title) - Le parfum - Histoire d'un meurtrier
Bulgaria (Bulgarian title) - Парфюмът: Историята на един убиец
Brazil - Perfume - A História de um Assassino
Chile - El perfume
Czech Republic - Parfém - Príbeh vraha
Germany - Das Parfum - Die Geschichte eines Mörders
Denmark - Parfumen - historien om en morder
Spain - El perfume, historia de un asesino
Finland - Parfyymi
Finland (poster title) - Parfyymi - erään murhaajan tarina
France - Le parfum - Histoire d'un meurtrier
Greece (transliterated ISO-LATIN-1 title) - To aroma: I istoria enos dolofonou
Croatia - Parfem: Povijest jednog ubojice
Hungary - Parfüm - Egy gyilkos története
Italy - Profumo - Storia di un assassino
Japan - Perfume - Aru hito goroshi no monogatari
Mexico - El Perfume: Historia de un asesino
Norway (alternative transliteration) - Parfymen - Historien om en morder
Peru - El perfume
Poland - Pachnidlo: Historia mordercy
Portugal - O Perfume - História de um Assassino
Serbia - Parfem: Priča o jednom ubici
Russia - Парфюмер: История одного убийцы
Sweden - Parfymen: Berättelsen om en mördare
Turkey (Turkish title) - Koku - Bir katilin hikayesi
Ukraine - Парфумер: Iсторiя одного вбивцi
World-wide (English title) (informal short title) - Perfume
World-wide (English title) - Perfume: The Story of a Murderer
Acteurs :
Cast 
Ben Whishaw Jean-Baptiste Grenouille
Francesc Albiol Court Official
Gonzalo Cunill Guard 1 Dungeon
Roger Salvany Guard 2 Dungeon
Andrés Herrera Door Guard (as Andres Herrera)
Simon Chandler Mayor of Grasse
David Calder Bishop of Grasse
Richard Felix Chief Magistrate
Birgit Minichmayr Grenouille's Mother
Reg Wilson Customer - Fishmarket
Catherine Boisgontier Woman - Fishmarket
Núria Casas Woman 2 - Fishmarket (as Nuria Casas)
Carlos Gramaje Police Lieutenant - Fishmarket
Sian Thomas Madame Gaillard
Michael Smiley Porter
Walter Cots Driver (as Walter Cots Wangüemert)
Perry Millward Marcel
Jan Cortés Boy - Boarding House (as Jan Cortes)
Berta Ros Girl - Boarding House
Alvaro Roque Grenouille - 5 Years
Franck Lefeuvre Grenouille - 12 Years
Sam Douglas Grimal
Joan Serrats Upholsterer
Jaume Montané Pélissier (as Jaume Montane)
Bridget McConnell Aunt (as Bridget McDonnel)
Duna Jové Young Woman (as Duna Jove)
Karoline Herfurth The Plum Girl
Timothy Davies Chenier
Dustin Hoffman Giuseppe Baldini
Dora Romano Baldini's Wife
Carolina Vera Neapolitan Girl
Rachel Hurd-Wood Laura
Alan Rickman Antoine Richis
Sara Forestier Jeanne
Ramon Pujol Lucien
Corinna Harfouch Madame Arnulfi
Paul Berrondo Druot
Joanna Griffiths Marianne
Jessica Schwarz Natalie
Harris Gordon Marquis de Montesquieu
Anna Gelman Albine
Laura Gelman Françoise
Guillermo Ayesa Tallien
Anna Diogene Tallien's Wife
Montserrat Masó Housekeeper (as Montserrat Maso)
Toby Harper Police Lieutenant
Jerome Willis Councillor 1
Fermí Reixach Councillor 2 (as Fermi Reixach)
Derek Smee Councillor 3
Albert Pérez Councillor 4 (as Albert Perez)
Artur Sala Gatekeeper
Thomas Lenox Messenger
Richard Collins-Moore Innkeeper
Francesca Piñón Innkeeper's Wife (as Francesca Piñon)
Nico Baixas Guard - Torture Chamber
Enric Arquimbau Executioner
Oriol Tramvia Land Priest
Cristina Solà Woman with Bishop (as Cristina Sola)
Laura Vidal Hangover Girl (as Laura Vidal Traver)
Ariadna Cabrol Beggar Woman 1
Maia Jenkinson Beggar Woman 2
John Hurt Narrator (voice)
Òscar Bosch
Aina Huguet
Ricardo Mestres
Marc Velasco Poorman
Abel Zamora
Miquel Bordoy Rural Orgy (uncredited)
Carme Capdet Customer of Giussepe Baldini (uncredited)
Carme Contreras Party Guest (uncredited)
Susana Goulart Extra (uncredited)
Pedro Gutiérrez Extra (uncredited)
Jordi Manuel Rural Orgy (uncredited)
Jaume Najarro Rural Orgy (uncredited)
Alberto Quintana Rural Orgy (uncredited)
Carlos Serna Rural Orgy (uncredited)
Sergi Atencia Sánchez Companion of Grenouille (uncredited)
Aucun commentaire pour l'instant.
Toutes les informations proviennent du site http://www.imdb.com
Cette page a été vue 1865 fois.