LE CARNAVAL DES AMES (1962)
FICHE
| CRITIQUE(S) |
PHOTOS (1)
| NEWS | DVDS | VIDEOS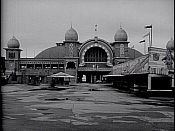 Titre original : CARNIVAL OF SOULS
Réalisateur(s) :
Herk Harvey
Scénariste(s) :
John Clifford
Année : 1962
Pays : USA
Langue(s) : English
Couleur : Color(green tinted)| Black and White
Ratio : 1.37 : 1
Son : Mono
Autre(s) Titre(s) :
Carnival of Souls - USA (original title)
Carnaval de Almas - Brazil (cable TV title)
Carnaval de almas - Mexico (imdb display title)
Carnaval de las almas - Argentina (imdb display title)
Carnevale di anime - Italy (TV title)
Carnival of Souls - Italy (imdb display title)
Corridors of Evil - USA (reissue title)
De infernaliska - Finland (Swedish title)
El carnaval de las almas - Spain
Helvetilliset - Finland
Kadotettuja sieluja - Finland (informal title)
Karnawal umarlych - Poland
Le carnaval des âmes - France
Lelkek karneválja - Hungary (imdb display title)
Rædslernes dans - Denmark
Tanz der toten Seelen - West Germany
To simadi tis amartias - Greece (TV title)
Acteurs :
Candace Hilligoss - Mary Henry
Frances Feist - Mrs. Thomas, Landlady
Sidney Berger - John Linden
Art Ellison - Minister
Stan Levitt - Dr. Samuels
Tom McGinnis - Organ Factory Boss
Forbes Caldwell - Carpenter in Organ Factory
Dan Palmquist - Gas Station Attendant
Bill de Jarnette - Mechanic (as Bill De Jarnette)
Steve Boozer - Chip, Man at Juke Box
Pamela Ballard - Dress Sales Lady
Larry Sneegas - Drag Racer
Cari Conboy - Lake Zombie
Karen Pyles - Dress Store Customer
T.C. Adams - Dancing Zombie
Sharon Scoville - Mary's Girlfriend
Mary Ann Harris - Mary's Girlfriend
Peter Schnitzler - A Walking Corpse
Bill Sollner - Lake Zombie
Reza Badiyi - Bus Ticket Customer (uncredited)
Ed Down - Man at Bridge (uncredited)
Herk Harvey - 'The Man' (uncredited)
Wayne Shmille - Sheriff at Bridge (uncredited)

Aucun commentaire pour l'instant.
Toutes les informations proviennent du site http://www.imdb.com
Cette page a été vue 525 fois.