LABYRINTH MAN (1977)
FICHE
| CRITIQUE(S) |
PHOTOS (2)
| NEWS | DVDS | VIDEOS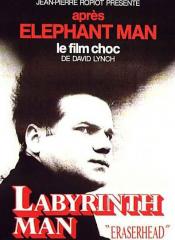 Un homme est abandonné par son amie qui lui laisse la charge d'un enfant prématuré, fruit de leur union. Il s'enfonce dans un univers fantasmatique pour fuir cette cruelle réalité.
Titre original : ERASERHEAD
Réalisateur(s) :
David Lynch
Scénariste(s) :
David Lynch
Genre(s) : Drama | Horror | Mystery
Durée : 89 min
Année : 1977
Pays : USA
Langue(s) : English
Couleur : Black and White
Ratio : 137 : 1
Son : Dolby(re-release)| Mono(original release)
Sortie France : 1980-12-17
Sortie US : 2010-03-13
Autre(s) Titre(s) :
Argentina (video title) - Cabeza borradora
Bulgaria (Bulgarian title) - Гумена глава
Spain - Cabeza borradora
France - Eraserhead
France (reissue title) - Labyrinth Man
Greece - Eraserhead
Hungary - Radírfej
Italy - Eraserhead - La mente che cancella
Mexico - Cabeza borradora
Mexico (DVD box title) - Eraserhead: Cabeza de borrador
Poland - Glowa do wycierania
Portugal - No Céu Tudo É Perfeito
Serbia - Glava za brisanje
Slovenia - Eraserhead
Soviet Union (Russian title) - Голова-ластик
USA (DVD box title) - Eraserhead 2000
USA (original script title) - Gardenback
Acteurs :
Cast 
Jack Nance Henry Spencer (as John Nance)
Charlotte Stewart Mary X
Allen Joseph Mr X
Jeanne Bates Mrs X
Judith Roberts Beautiful Girl Across the Hall (as Judith Anna Roberts)
Laurel Near Lady in the Radiator
V Phipps-Wilson Landlady (long version)
Jack Fisk Man in the Planet
Jean Lange Grandmother
Thomas Coulson The Boy
John Monez Bum
Darwin Joston Paul
T Max Graham The Boss (as Neil Moran)
Hal Landon Jr Pencil Machine Operator
Jennifer Chambers Lynch Little Girl (as Jennifer Lynch)
Brad Keeler Little Boy
Peggy Lynch Person Digging in the Alley (long version)
Doddie Keeler Person Digging in the Alley (long version)
Gill Dennis Man with Cigar
Toby Keeler Man Fighting
Jack Walsh Mr Roundheels (as Raymond Walsh)
Aucun commentaire pour l'instant.
Toutes les informations proviennent du site http://www.imdb.com
Cette page a été vue 7531 fois.