LA MOMIE : LA TOMBE DE L'EMPEREUR DRAGON (2008)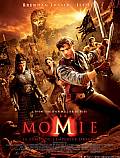 Le troisième épisode de la saga La Momie nous transporte cette fois en Asie pour une nouvelle aventure qui verra Rick O'Connell et les siens livrer un combat sans merci à l'Empereur Dragon. Des catacombes de la Chine antique aux sommets de l'Himalaya, l'explorateur intrépide, son jeune fils Alex, sa femme Evelyn et son beau-frère Jonathan affronteront la Momie ressuscitée du plus cruel conquérant de Chine.
Victimes d'une sorcière maléfique, l'Empereur Dragon et ses 5000 soldats ont été relégués pour l'éternité dans les limbes. L'immense armée de terre cuite reposera ainsi durant 2000 ans, oubliée de tous, jusqu'à ce qu'Alex commette l'erreur de réveiller son chef. Pour éviter une vague de méfaits, Rick devra appeler à la rescousse les seules personnes plus habiles que lui à combattre les morts-vivants : sa propre famille...
Titre original : THE MUMMY: TOMB OF THE DRAGON EMPEROR
Réalisateur(s) :
Rob Cohen
Scénariste(s) : Alfred Gough (written by) &, Miles Millar (written by),  , John L Balderston (1932 screenplay) (uncredited), Stephen Sommers (2001 screenplay) (uncredited)
Genre(s) : Action | Adventure | Fantasy
Durée : 112 min
Année : 2008
Pays : USA | China | Germany | Canada
Langue(s) : English | Mandarin | Sanskrit
Couleur : Color
Ratio : 235 : 1
Son : Dolby Digital| SDDS| DTS
Sortie France : 2008-08-06
Sortie US : 2008-08-01
Autre(s) Titre(s) :
(original title) - The Mummy: Tomb of the Dragon Emperor
Argentina - La momia - La tumba del emperador dragón
Bulgaria (Bulgarian title) - Мумията: Гробницата на Императора Дракон
Brazil - A Múmia: Tumba do Imperador Dragão
Canada (French title) - La momie - La tombe de l'empereur dragon
Germany - Die Mumie - Das Grabmal des Drachenkaisers
Denmark - Mumien: Drage-kejserens grav
Estonia - Muumia - Draakonkeisri hauakamber
Spain - La momia. La tumba del emperador dragón
Finland - Muumio: Lohikäärmekeisarin hauta
France - La momie - La tombe de l'empereur dragon
Greece (transliterated ISO-LATIN-1 title) - I moumia: I aftokratoria tou Drakou
Greece - Η μούμια: Η αυτοκρατορία του δράκου
Croatia - Mumija: Grobnica zmajskog cara
Hungary - A múmia - A sárkánycsászár sírja
Italy - La mummia - La tomba dell'Imperatore Dragone
Japan (English title) (short title) - Hamunaptra 3
Norway - Mumien: Dragekeiserens grav
Peru - La momia 3 - La tumba del emperador dragón
Poland - Mumia - Grobowiec cesarza smoka
Portugal - A Múmia - O Túmulo do Imperador Dragão
Serbia - Mumija - Grobnica Zmaja imperatora
Russia - Мумия: Гробница Императора Драконов
Sweden - Mumien: Drakkejsarens grav
Turkey (Turkish title) - Mumya - Ejder imparatoru'nun mezari
USA (informal title) - The Mummy 3
USA (working title) - The Mummy 3: Curse of the Dragon
USA (working title) - Untitled Rick O'Connell Adventure
Venezuela - La momia - La tumba del emperador dragón
Acteurs :
Cast 
Brendan Fraser Rick O'Connell
Jet Li Emperor
Maria Bello Evelyn O'Connell
John Hannah Jonathan Carnahan
Michelle Yeoh Zi Yuan
Luke Ford Alex O'Connell
Isabella Leong Lin
Anthony Chau-Sang Wong General Yang (as Chau Sang Anthony Wong)
Russell Wong Ming Guo
Liam Cunningham Maguire
David Calder Roger Wilson
Jessey Meng Choi
Tian Liang Li Zhou
Albert Kwan Chu Wah
Jacky Wu Assassin (as Wu Jing)
Binghua Wei Assassin
Jing Guo Assassin
Alison Louder Woman in Bookstore
Marcia Nasatir Russian Princess
Emerald Starr Man in Bar
Helen Feng Nightclub Singer
Stella Maryna Troshyna Brunette at Imhotep's
James Bradford Butler Jameson
Daniel Richard Giverin Benjamin Fry (as Daniel Giverin)
Ken Tran Yang's Soldier (as Ken C Tran)
Allan Yuk-lun Chou Yang's Soldier (as Allan Chou)
Fernando Chien Yang's Soldier (as Fernando Fu-Nan Chien)
Mac Jeffrey Ong Yang's Soldier (as Jeffrey Ong)
Chris Mark Yang's Soldier
James Mark Yang's Soldier
Mike Ching Yang's Soldier
Darryl Quon Yang's Soldier
Alex Chiang Yang's Soldier
Paul Wu Yang's Soldier
Larry Lam Yang's Soldier
Brian Ho Yang's Soldier
Vi-Hung Luv Yang's Soldier
Phong Doan Huy Yang's Soldier
Kyle Burnett Cashulin Mad Dog's Pal
Charles Esposito Mad Dog's Pal
Michael Scherer Yeti (as Mike Scherer)
Scott Taylor Yeti
Kham Tri Vixaysy Chinese Digger
Don Lew Chinese Digger
Regis Attiow Mystic
Tony Wai Mystic
Yungstun Wu Mystic
Xiang Guangxu Mystic
Cong-Quyen Lam Mystic
Freda Foh Shen Narrator (voice)
Vic Armstrong Dancer in Nightclub (uncredited)
Aucun commentaire pour l'instant.
Toutes les informations proviennent du site http://www.imdb.com
Cette page a été vue 5304 fois.