L'EPERON BRULANT (1968)
FICHE
| CRITIQUE(S) | PHOTOS | NEWS |
DVDS (1)
| VIDEOS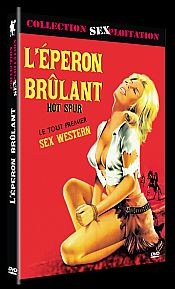 L histoire se passe dans la chaleur des collines de l Ouest américain. Un monde qui rime avec brutalité où les corps à corps sont quotidiens. Pas de quartier dans un univers de mâles où les femmes sont mises à nu sans vergogne.
Enlèvement, meurtre, vengeance, sueur et sexe se mélangent pour le pire… ou le meilleur.
Titre original : HOT SPUR
Réalisateur(s) :

Lee Frost

(as RL Frost)
Scénariste(s) : Bob Cresse (original story) (as RW Cresse),  , Lee Frost (screenplay) (as RL Frost)
Genre(s) : Western
Durée : 91 min
Année : 1968
Pays : USA
Langue(s) : English
Couleur : Color(Eastmancolor)
Sortie France : 1970-01-01
Sortie US : 1968-07-05
Autre(s) Titre(s) :
- Fiery Spur
- The Longest Spur
- The Naked Spur
Belgium (French title) - Les éperons du désir
Denmark - Et sexdyr i Texas
Finland (Swedish title) - Eldsporren
Finland - Tulikannus
France (dubbed version) - L'éperon brûlant
Italy - Sperone selvaggio
Sweden (subtitle) - Et sexdyr i Texas
West Germany (video title) - Die Folterranch der gequälten Frauen
West Germany - Heisse Sporen
Acteurs :
Cast 
James Arena Jason O'Hara
Virginia Gordon Susan O'Hara
Joseph Mascolo Carlo
Wes Bishop Wes
Tom McFadden
John Alderman Tom
Paul Frank
Paul Wilmoth
John Riazzi
Bill Martin
Rod Wilmoth
Angel Carter
Sky
Laura McLaughlin
Monique Heguy
Ellen Gaines (uncredited)
James E McLarty Guitarist (uncredited)
Aucun commentaire pour l'instant.
Toutes les informations proviennent du site http://www.imdb.com
Cette page a été vue 2283 fois.