L'AGE DE GLACE 3 : L'AUBE DES DINOSAURES (2009)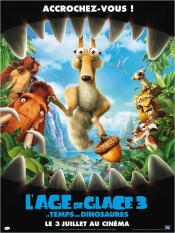 Les héros de L'Age de glace sont de retour pour une nouvelle aventure hilarante, où une maladresse de Sid le paresseux va les propulser au coeur d'un monde étrange perdu sous la glace, et peuplé de dinosaures !
Ensemble, ils vont devoir se confronter à des habitants pour le moins hostiles et parfois farfelus. Mais nos personnages ne semblent pas complètement préparés à affronter cet univers inconnu...
En effet, Manny et Ellie attendent leur premier enfant mammouth : comment le futur père, déjà hyper stressé, va t'il appréhender la paternité dans ce contexte peu sécurisant ?
Diego, le tigre aux dents de sabre, redoute d'avoir perdu ses instincts de prédateur. C'est pourtant le moment de les retrouver !
Sid, quant à lui, est convaincu d'avoir enfin réussi à construire sa propre famille en kidnappant trois oeufs... de dinosaures ! Saura t-il persuader leur T-Rex de mère qu'il est mieux placé qu'elle pour les élever ?
En chemin, ils feront la rencontre d'une fouine légèrement cinglée prénommée Buck, chasseur de dinos obsessionnel, sur qui ils devront s'appuyer pour survivre aux pièges de ce nouveau monde.
Et au fait, Scrat ? Va-t-il renoncer à sa noisette au nom du grand amour ?!
Titre original : ICE AGE: DAWN OF THE DINOSAURS
Réalisateur(s) :

Carlos Saldanha

,

Mike Thurmeier

(co-director)
Scénariste(s) : Peter Ackerman (screenplay), Michael Berg (screenplay), Yoni Brenner (screenplay), Jason Carter Eaton (story), Mike Reiss (screenplay)
Genre(s) : Animation | Action | Adventure
Durée : 94 min
Année : 2009
Pays : USA
Langue(s) : English
Couleur : Color
Ratio : 185 : 1
Son : DTS| Dolby
Sortie France : 2009-07-03
Sortie US : 2009-07-01
Autre(s) Titre(s) :
(original title) - Ice Age: Dawn of the Dinosaurs
Argentina - La era de hielo 3
Australia - Ice Age 3: Dawn of the Dinosaurs
Bulgaria (Bulgarian title) - Ледена епоха 3: Зората на динозаврите
Brazil - A Era do Gelo 3
Canada (French title) - L'ère de glace - L'aube des dinosaures
Czech Republic - Doba ledová 3
Germany - Ice Age 3 - Die Dinosaurier sind los
Denmark - Ice Age 3 - Dinosaurerne kommer
Estonia - Jääaeg 3
Spain - Ice Age 3: El origen de los dinosaurios
Finland (pre-release title) - Ice Age 3
Finland - Ice Age 3: Dinosaurusten aika
France - L'âge de glace 3: Le temps des dinosaures
Greece (transliterated ISO-LATIN-1 title) - I epohi ton pagetonon 3: I avgi ton deinosavron
Greece - Η Εποχή των Παγετώνων 3: Η Αυγή των Δεινοσαύρων
Croatia - Ledeno doba 3: Dinosauri dolaze
Hungary - Jégkorszak 3. - A dínók hajnala
Italy - L'era glaciale 3 - L'alba dei dinosauri
Japan (English title) (short title) - Ice Age 3
Lithuania (short title) - Ledynmetis 3
Lithuania - Ledynmetis: dinozauru eros pradzia
Mexico - La era de hielo 3
Norway - Istid 3 - Dinosaurene kommer
Peru - La era de hielo 3
Poland - Epoka lodowcowa 3: Era dinozaurów
Portugal - A Idade do Gelo 3: Despertar dos Dinossauros
Serbia - Ledeno doba 3 - Dinosaurusi dolaze
Russia - Ледниковый период 3: Эра динозавров
Sweden - Ice Age 3: Det våras för dinosaurierna
Singapore (English title) - Ice Age 3
Turkey (Turkish title) - Buz devri 3 - Dinozorlarin safagi
USA (working title) - Ice Age 3
USA (working title) - Ice Age 3: Dawn of the Dinosaurs
Acteurs :
Cast 
Eunice Cho Madison (Diatryma Girl) (voice)
Karen Disher Scratte (voice)
Harrison Fahn Glypto Boy (voice)
Maile Flanagan Aardvark Mom (voice)
Jason Fricchione Adult Molehog Male (voice)
Bill Hader Gazelle (voice)
Kelly Keaton Molehog Mom /Shovelmouth Mom (voice)
Joey King Beaver Girl (voice)
Queen Latifah Ellie (voice)
Denis Leary Diego (voice)
Allegra Leguizamo Aardvark Girl (voice)
John Leguizamo Sid (voice)
Lucas Leguizamo Aardvark Boy /Beaver Kid #2 (voice)
Clea Lewis Start Mom (voice)
Jane Lynch Diatryma Mom (voice)
Josh Peck Eddie (voice)
Simon Pegg Buck (voice)
Christian Pikes Little Johnny (Aardvark Kid) (voice)
Avery Christopher Plum Beaver Kid #1 (voice)
Joe Romano Ronald (Shovelmouth Boy) (voice)
Ray Romano Manny (voice)
Carlos Saldanha Dinosaur Babies /Flightless Bird (voice)
Manoela Scarpa Saldanha Molehog Girl 1 (voice)
Sofia Scarpa Saldanha Molehog Girl 2 (voice)
Seann William Scott Crash (voice)
Cindy Slattery Bird (voice)
Chris Wedge Scrat (voice)
Kristen Wiig Pudgy Beaver Mom (voice)
Matt Adler (voice)
Steve Alterman (voice)
Anthony Amorim (voice)
Claudia Besso (voice)
June Christopher (voice)
Holly Dorff (voice)
Nicole Ehinger (voice)
David H Kramer (voice)
Selenis Leyva (voice)
Matthew P McCarthy (voice)
David McCharen (voice)
Beatrice Miller (voice)
Regan Mizrahi (voice)
Tim Nordquist (voice)
Devika Parikh (voice)
Alexandra Pisacane (voice)
Jake Schwencke (voice)
Amanda Scott (voice)
Johnathan Tchaikovsky (voice)
Pamala Tyson (voice)
Toutes les informations proviennent du site http://www.imdb.com
Cette page a été vue 3010 fois.