L'ABIME DES MORTS-VIVANTS (1982)
FICHE
| CRITIQUE(S) | PHOTOS | NEWS | DVDS | VIDEOS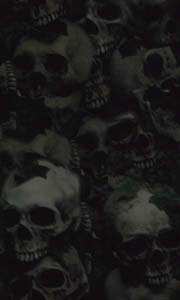 Un homme part sur les traces de son père, héros de la deuxième Guerre Mondiale, assassiné après avoir révélé l'emplacement du trésor du Maréchal Rommel. Sur place, les soldats allemands morts pour la défense du butin sont devenus des zombies affamés de chair humaine.
Titre original : LA TUMBA DE LOS MUERTOS VIVIENTES
Réalisateur(s) :

Jesús Franco

(as AM Frank)
Scénariste(s) : Jesús Franco (screenplay) (as AL Mariaux) &, Ramón Llidó (story) (as Ramón Llido),  , Jesús Franco (screenplay) (as J Franco)
Genre(s) : Horror
Année : 1982
Pays : France | Spain
Langue(s) : French | Spanish
Couleur : Color
Ratio : 166 : 1
Son : Mono
Sortie France : 1982-04-21
Autre(s) Titre(s) :
(original title) - La tumba de los muertos vivientes
- El desierto de los zombies
Brazil - Oásis dos Zumbis
Germany (DVD title) - Oase der Zombies
France - L'abîme des morts vivants
France (alternative title) - Le trésor des morts vivants
Italy - Oasis of the Zombies
Poland - Oaza zombie
USA (DVD title) - Oasis of the Zombies
USA - The Oasis of the Living Dead
West Germany - Der Abgrund der lebenden Toten
West Germany - Oase der Zombies
World-wide (video title) (English title) - Bloodsucking Nazi Zombies
World-wide (English title) (literal title) - Grave of the Living Dead
World-wide (English title) - The Treasure of the Living Dead
Acteurs :
Cast 
Manuel Gélin Robert Blabert
Eduardo Fajardo Colonel Kurt Meitzell
France Lomay Erika (as France Jordan)
Jeff Montgomery Ben
Lina Romay Kurt's Wife
Myriam Landson Kurt's Wife
Antonio Mayans Sheik Mohamed Al-Kafir
Javier Maiza Captain Blabert
Eric Viellard Ronald (as Eric Saint-Just)
Caroline Audret Sylvie
Albino Graziani Prof Deniken
Miguel Ángel Aristu Ahmed (as Miguel Aristu)
Henri Lambert Kurt (as Henry Lambert)
Doris Regina Aisha
Jesús Franco Zombie
Daniel Katz (uncredited)
Juan Soler (uncredited)
Aucun commentaire pour l'instant.
Toutes les informations proviennent du site http://www.imdb.com
Cette page a été vue 1558 fois.