L.A. ZOMBIE (2010)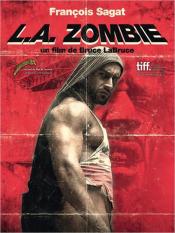 Un étrange zombie de couleur bleuté émerge de l'océan pacifique avant d'être recueilli par un surfeur. Tous deux sont victimes d'un grave accident qui laisse le surfeur pour mort au milieu de la route. Mais le zombie va trouver un moyen de ramener le jeune homme à la vie. Immergée dans la Cité des Anges, la créature va dès lors se confondre avec un sans domicile fixe schizophrène et, tel un sauveur de l'ombre, se mettre en quête de nouveaux morts à ressusciter...
Titre original : L.A. ZOMBIE
Réalisateur(s) :

Bruce La Bruce

(as Bruce LaBruce)
Scénariste(s) : Bruce La Bruce (written by) (as Bruce LaBruce)
Genre(s) : Adult | Horror
Durée : 103 min (Hardcore Director's Cut) | 63 min (edited)
Année : 2010
Pays : USA | Germany
Langue(s) : English
Couleur : Color
Ratio : 185 : 1
Son : Dolby
Sortie France : 2011-12-07
Sortie US : 2011-10-16
Autre(s) Titre(s) :
France - L.A. Zombie
USA (working title) - Gay of the Dead
World-wide (English title) - L.A. Zombie
World-wide (English title) (DVD box title) - L.A. Zombie: Hardcore
Acteurs :
Cast 
François Sagat Zombie
Rocco Giovanni Car Accident Victim
Wolf Hudson Shooting Victim
Eddie Diaz Dead Guy Dumped out of Car
Andrew James Homeless Overdose Man
Matthew Rush Drug Deal Victim 1 (as Mathew Rush)
Erik Rhodes Drug Deal Victim 2
Francesco D'Macho Drug Deal Victim 3
Adam Killian Drug Deal Victim 4
Tony Ward Homeless Person 1 (nonsex)
Santino Rice Homeless Person 2 (nonsex)
DJ Sly Homeless Person 3 (nonsex) (as Sly)
Tim Kuzma LA River Shooter (nonsex) (as Tim Küzma)
Trevor Wayne Drug Dealer 1 (nonsex)
Deadlee Drug Dealer 2 (nonsex)
Nasa Homeless Man With Shopping Carts (nonsex)
Aucun commentaire pour l'instant.
Toutes les informations proviennent du site http://www.imdb.com
Cette page a été vue 2015 fois.