Filmographie de : Kazutoshi Yokoyama
Actrice / Acteur :
009 NO 1: THE END OF THE BEGINNING
(009-1: The End of the Beginning ), de
Koichi Sakamoto
(as Kôichi Sakamoto), 2013
Le monde est divisé en deux factions : le bloc de l'Ouest et le bloc de l'Est. Alors que la guerre froide se prolonge, la tension entre les deux factions, ainsi que le nombre d'armes nucléaires dont elles disposent, augmentent. Mylene, cyborg agent secret du bloc occidental, en mission d'infiltration, découvre le secret de ses origines....
BATTLE ROYALE II
(Batoru rowaiaru II: Chinkonka), de
Kenta Fukasaku
,
Kinji Fukasaku
, 2003
Deux ans se sont écoulés depuis "Battle Royale", un jeu de la mort organisé par le gouvernement japonais pour mater une jeunesse de plus en plus turbulente. Aujourd'hui, la situation est plus grave encore car un groupe terroriste constitué de mineurs, les Wild Seven, multiplie les attentats. Une seule solution : Battle Royale II...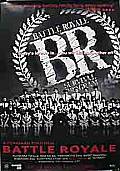 BATTLE ROYALE
(Batoru rowaiaru), de
Kinji Fukasaku
, 2000
Alors que le pays frôle le chaos, le gouvernement japonais lance une nouvelle loi : chaque année, une classe est envoyée sur une île deserte. La règle est simple, au bout des trois jours une seule personne doit rester vivante....