HOMME INVISIBLE, L' (1933)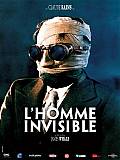 Claude Rains nous offre une interprétation de premier ordre dans ses débuts au cinéma, dans le rôle d'un mystérieux médecin qui découvre le sérum de l'invisibilité. Enveloppé de bandelettes et cachant ses yeux derrière des lunettes noires, Rains débarque dans un petit village de la campagne anglaise et tente de cacher son incroyable découverte....
Titre original : THE INVISIBLE MAN
Réalisateur(s) :
James Whale
Scénariste(s) : H.G. Wells, R.C. Sherriff
Année : 1933
Pays : USA
Langue(s) : English
Couleur : Black and White
Ratio : 1.37 : 1
Son : Mono(Western Electric Noiseless Recording Sound System)
Sortie US : 1933-11-13
Autre(s) Titre(s) :
The Invisible Man - USA (original title)
Der Unsichtbare - Austria / Austria (reissue title) / West Germany
El hombre invisible - Mexico (imdb display title) / Spain
O Homem Invisível - Brazil / Portugal (imdb display title)
A láthatatlan ember - Hungary (imdb display title)
De onzichtbare man - Netherlands (informal literal title)
Den osynlige mannen - Sweden
Den usynlige Mand - Denmark (imdb display title)
Görünmeyen adam - Turkey (Turkish title)
H.G. Wells' The Invisible Man - Australia (TV title)
L'homme invisible - France
L'uomo invisibile - Italy
Näkymätön mies - Finland
Nevidljivi čovek - Serbia
Niewidzialny czlowiek - Poland
O aoratos anthropos - Greece (transliterated ISO-LATIN-1 title)
Acteurs :
Claude Rains - The Invisible Man
Gloria Stuart - Flora Cranley
William Harrigan - Dr. Arthur Kemp
Henry Travers - Dr. Cranley
Una O'Connor - Jenny Hall
Forrester Harvey - Herbert Hall
Holmes Herbert - Chief of Police
E.E. Clive - Const. Jaffers
Dudley Digges - Chief Detective
Harry Stubbs - Inspector Bird
Donald Stuart - Inspector Lane
Merle Tottenham - Millie
Robert Adair - Detective Thompson (uncredited)
Ted Billings - Villager Playing Darts (uncredited)
Walter Brennan - Bicycle Owner (uncredited)
Robert Brower - Farmer (uncredited)
John Carradine - Villager Suggesting Ink (uncredited)
D'Arcy Corrigan - Villager (uncredited)
Dwight Frye - Reporter (uncredited)
Mary Gordon - Screaming Woman (uncredited)
Tiny Jones - Townswoman at Pub (uncredited)
Violet Kemble Cooper - Woman (uncredited)
Crauford Kent - Doctor (uncredited)
John Merivale - Newsboy (uncredited)
Monte Montague - Policeman (uncredited)
Bob Reeves - Detective Hogan (uncredited)
Jack Richardson - Official (uncredited)
Tom Ricketts - Old Farmer with Barn (uncredited)
Kathryn Sheldon - Orphanage Worker (uncredited)
Emma Tansey - Old Woman Listening to the Radio (uncredited)
Jameson Thomas - Hospital Physician (uncredited)
Leo White - Man Calling Police (uncredited)
Bert Young - Railroad Switchman (uncredited)

Aucun commentaire pour l'instant.
Toutes les informations proviennent du site http://www.imdb.com
Cette page a été vue 1099 fois.