GODZILLA CONTRE MEGALON (1973)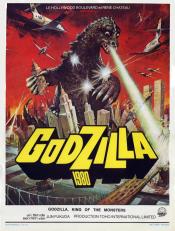 Le roi de Seatopia décide de s'emparer du monde sur la terre ferme en constatant à quel point les humains négligent la planète. Il envoie donc le monstre Megalon, guidé par le robot Jet Jaguar, pour faire disparaître les hommes. Godzilla est alors réveillé pour tenter de stopper la créature...
Titre original : GOJIRA TAI MEGARO
Réalisateur(s) :
Jun Fukuda
Scénariste(s) : Jun Fukuda (writer), Takeshi Kimura (story 'Gojira tai Uchu Kaijû'), Shin'ichi Sekizawa (story)
Genre(s) : Action | Adventure | Sci-Fi
Année : 1973
Pays : Japan
Langue(s) : Japanese
Couleur : Color(Fujicolor)
Ratio : 235 : 1
Son : Mono
Sortie France : 1976-10-27
Sortie US : 1970-01-01
Autre(s) Titre(s) :
(original title) - Gojira tai Megaro
Germany (DVD title) - Godzilla gegen Megalon
Germany - King-Kong - Dämonen aus dem Weltall
Spain - Gorgo y Superman se citan en Tokio
France - Godzilla 80
France - Godzilla contre Megalon
Greece (transliterated ISO-LATIN-1 title) - Iptamenos yperanthropos
Italy - Ai confini della realtà
Poland - Godzilla kontra Megalon
Slovenia - Godzila proti Megalonu
Soviet Union (Russian title) - Годзилла против Мегалона
USA - Godzilla vs. Megalon
West Germany - King-Kong - Dämonen aus dem Weltall
Acteurs :
Cast 
Katsuhiko Sasaki Inventor Goro Ibuki
Hiroyuki Kawase Rokuro 'Roku-chan' Ibuki
Yutaka Hayashi Hiroshi Jinkawa
Robert Dunham Emperor Antonio of Seatopia
Kotaro Tomita Lead Seatopian Agent
Ulf Ôtsuki Seatopian Agent
Gentaro Nakajima Truck Driver (as Gen Nakajima)
Sakyo Mikami Truck Driver's Assistant
Fumiyo Ikeda Man from Unit 1
Kanta Mori Japan Special Defense Forces Chief
Shinji Takagi Gojira
Hideto Odachi Megaro
Tsugutoshi Komada Jetto Jagâ
Kenpachirô Satsuma Gaigan (as Kengo Nakayama)
Rolf Jessup Antonio's Aide (Radio Operator in White)
Eisuke Nakanishi Asuka Island Nuclear Test (Narrator)
Chris Hilton Inventor Goro Ibuki (voice) (uncredited)
Haruo Nakajima Gojira (stock footage) (uncredited)
Ted Thomas Emperor Antonio of Seatopia /Narrator /Radio Announcer (voice) (uncredited)
Aucun commentaire pour l'instant.
Toutes les informations proviennent du site http://www.imdb.com
Cette page a été vue 5902 fois.