GENERATION PERDUE 2 (2008)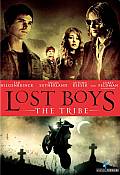 A la mort de leurs parents, Chris et sa soeur emménagent chez leur tante, non loin d'une communauté de vampires. Quand la jeune fille tombe sous le charme de l'un d'eux, Chris fait appel au spécialiste local, Edgar Frog...
Titre original : LOST BOYS: THE TRIBE
Réalisateur(s) :
PJ Pesce
Scénariste(s) : Jan Fischer (characters) (as Janice Fischer) &, James Jeremias (characters),  , Hans Rodionoff (written by)
Genre(s) : Comedy | Horror | Thriller
Durée : 92 min | 94 min (uncut)
Année : 2008
Pays : USA | Canada
Langue(s) : English
Couleur : Color
Ratio : 235 : 1
Son : Dolby Digital
Sortie US : 2008-07-29
Autre(s) Titre(s) :
Argentina (DVD title) - Los muchachos perdidos - La tribu
Australia - Lost Boys 2: The Tribe
Bulgaria (Bulgarian title) - Изгубените момчета: Племето
Brazil - Garotos Perdidos - A Tribo
Germany - Lost Boys 2: The Tribe
Spain - Jóvenes ocultos 2: Vampiros del surf
Finland - Lost boys - heimo
Greece (transliterated ISO-LATIN-1 title) - Ta paidia tis nyhtas 2 - I fyli
Hungary - Az elveszett fiúk: A törzs
Japan (literal English title) - Lost Boy: New Blood
Mexico - Los muchachos perdidos 2: La tribu
Norway - Lost Boys 2: The Tribe
Poland - Straceni chlopcy 2
Russia - Пропащие ребята: Племя
Acteurs :
Cast 
Tad Hilgenbrink Chris (as Tad Hilgenbrinck)
Angus Sutherland Shane
Autumn Reeser Nicole
Gabrielle Rose Aunt Jillian
Corey Feldman Edgar Frog
Shaun Sipos Kyle
Merwin Mondesir Erik
Kyle Cassie Jon
Moneca Delain Lisa
Greyston Holt Evan
Tom Savini David Van Etten
Daryl Shuttleworth McGraw
Sarah Smyth Hayden
PJ Pesce Italian Motorcyclist
Alexander Calvert Grom
Lindsay Maxwell Hot Girl at Party
Karolina Turek Latex Girl (scenes deleted)
Ildiko Ferenczi Latex Girl (scenes deleted)
Jennifer Rostad Topless Girl
Gerald Paetz Sheriff #1
Rikki Gagne Alpha Phi #1
Lauren Gibson Alpha Phi #2
Maja Aro Alpha Phi #3 (as Maja Stace-Smith)
Corey Haim Sam Emerson
Jamison Newlander Alan Frog (scenes deleted)
Evan Allen Lead Singer (as leas singer of Yeah Whatever)
Leah Beckingham Making out lesbian (uncredited)
Aucun commentaire pour l'instant.
Toutes les informations proviennent du site http://www.imdb.com
Cette page a été vue 9041 fois.