Filmographie de : Emiliano Ranzani
Scénariste :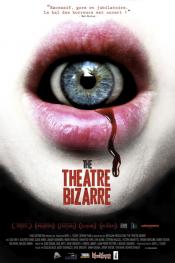 THE THEATRE BIZARRE
, de
Douglas Buck
(segment 'The Accident'),
Buddy Giovinazzo
(segment 'I Love You'),
David Gregory
(segment 'Sweets'),
Karim Hussain
(segment 'Vision Stains'),
Jeremy Kasten
(framing segments),
Tom Savini
(segment 'Wet Dreams'),
Richard Stanley
(segment 'The Mother Of Toads'), 2011
Un film-à-sketches en hommage au légendaire Art du Grand Guignol réunissant sept cinéastes de l'horreur. THE MOTHER OF TOADS, de Richard Stanley. En France, un couple de vacanciers rencontre une sorcière qui prétend posséder une copie du Necronomicon. I LOVE YOU, de Buddy Giovinazzo. Une femme annonce à son mari qu'elle le quitte. THE ACCIDENT, de Douglas Buck. Une mère et sa fille sont témoins d'un accident de la...