DERNIER RITE, LE (2009)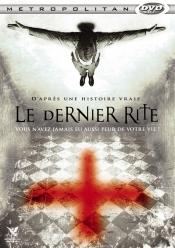 Pour faire des économies, Sara et Peter Campbell décident de s'installer plus près de l'hôpital où Matt, leur fils adolescent atteint d'un cancer, participe à un traitement expérimental. Dès les premiers jours dans la vieille demeure qu'ils ont louée, ce dernier est victime d'hallucinations effrayantes. Les Campbell apprennent bientôt qu'ils se sont installés dans un ancien salon funéraire dont le propriétaire conduisait des séances de spiritisme. Tandis que le nombre de manifestations va croissant, la santé de Matt décline. Désemparé, l'adolescent prend contact avec le révérend Popescu….
Titre original : THE HAUNTING IN CONNECTICUT
Réalisateur(s) :
Peter Cornwell
Scénariste(s) : Adam Simon, Tim Metcalfe
Année : 2009
Pays : USA | Canada
Langue(s) : English
Couleur : Color
Ratio : 2.35 : 1
Son : SDDS| DTS| Dolby Digital
Sortie US : 2009-03-27
Autre(s) Titre(s) :
The Haunting in Connecticut - USA (original title)
Extrañas apariciones - Mexico / Peru
Призраки в Коннектикуте - Russia
Connecticutis kummitab - Estonia
Das Haus der Dämonen - Germany
Ekutopurazumu - Onryô no sumu ie - Japan
Evocando Espíritos - Brazil
Exorcismo en Connecticut - Spain
Hjemsøgt - Denmark
Hruza v Connecticutu - Czech Republic
Il messaggero - Italy
Invocando espíritus - Argentina
Kísértetjárás Connecticutban - Hungary (imdb display title)
Lanetli ev - Turkey (Turkish title)
Le Dernier rite - France (imdb display title)
Malédiction au Connecticut - Canada (French title)
O Mensageiro dos Espíritos - Portugal
Oi fones ton nekron - Greece (transliterated ISO-LATIN-1 title)
Opsjednuti - Croatia (imdb display title)
Posednuće u Konektikatu - Serbia
Pragaras Konektikute - Lithuania
Sausmas Konektikuta - Latvia
Udreczeni - Poland
Acteurs :
Virginia Madsen - Sara Campbell
Kyle Gallner - Matt Campbell
Elias Koteas - Reverend Popescu
Amanda Crew - Wendy
Martin Donovan - Peter Campbell
Sophi Knight - Mary
Ty Wood - Billy Campbell
Erik J. Berg - Jonah (as Erik Berg)
John Bluethner - Ramsey Aickman
D.W. Brown - Dr. Brooks
John B. Lowe - Mr. Sinclair
Adriana O'Neil - Chemo Nurse
Will Woytowich - Cop
James Durham - Matt's Cell Mate
Darren Ross - Paramedic #1
Sarah Constible - Paramedic #2
Blake Taylor - 1920's Séance Attendee #1
Keith James - 1920's Séance Attendee #2
Kelly Wolfman - 1920's Séance Attendee #3
Jessica Burleson - 1920's Séance Attendee #4
Matt Kippen - Strung-Out Guy
Jeny Cassady - 1920's Hero Engraved Corpse #2 (uncredited)
Nicholas Podbrey - Engraved Ghost (uncredited)

Aucun commentaire pour l'instant.
Toutes les informations proviennent du site http://www.imdb.com
Cette page a été vue 3261 fois.