Filmographie de : Brent V Friedman
Scénariste :
PREHYSTERIA! 3
(Les dinosaures enchantés au golf), de
David DeCoteau
(as Julian Breen), 1995
...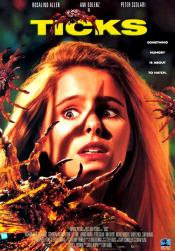 TICKS ATTACK
(Ticks), de
Tony Randel
, 1993
Des tiques géantes et particulièrement agressives attaquent un groupe de jeunes gens parti pour une simple et paisible promenade en forêt. ...
NECRONOMICON
, de
Christophe Gans
(segment 'part #1: The Drawned'),
Shûsuke Kaneko
(segment 'part #2: The Cold'),
Brian Yuzna
(segments 'The Library', 'part #3: Whispers'), 1993
En quête d'inspiration, Howard Philip Lovecraft s'infiltre dans les sous-sols d'une bibliothèque renfermant le Necronomicon, grimoire maléfique rédigé sur une peau humaine. Cette lecture va lui inspirer trois histoires terrifiantes. ...
SOLDAT CYBORG
, de
George Elanjian Jr
, 1990
...