ATTENTION AU BLOB ! (1972)
FICHE
| CRITIQUE(S) |
PHOTOS (2)
| NEWS | DVDS | VIDEOS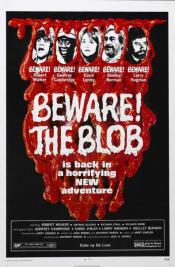 Suite à des travaux d'excavation, un employé trouve un contenant métallique indiquant "spécimen garder gelé". Après avoir confié ce mystérieux cylindre à son patron Chester Hargis , la femme de ce dernier néglige la mise en garde de l'inscription. Exposée à la chaleur ambiante de leur habitation, en quelques instants une chose gluante d'un rouge vif sort par elle-même du contenant qui l'abritait. La chose augmente de volume très rapidement. Cette masse gélatineuse devient énorme, elle se déplace très vite et peu se glisser partout, elle absorbe tout ce qui vit. La vie l'attire et elle a faim ! Les habitants de la petite ville sont en danger...
Titre original : BEWARE! THE BLOB
Réalisateur(s) :
Larry Hagman
Scénariste(s) : Jack Woods (screenplay) and, Anthony Harris (screenplay),  , Richard Clair (story 'A Chip Off the Old Blob') and, Jack H Harris (story)
Genre(s) : Comedy | Horror | Sci-Fi
Durée : 91 min
Année : 1972
Pays : USA
Langue(s) : English
Couleur : Color
Ratio : 185 : 1
Son : Mono(Westrex Recording System)
Sortie France : 1975-03-26
Sortie US : 1972-06-21
Autre(s) Titre(s) :
(original title) - Beware! The Blob
- Beware of the Blob
Spain - Blob - Masa mortal
Finland - Valuvan kuoleman kosto
France - Attention au blob!
UK - Son of Blob
Mexico - ¡Cuidado con el blob!
USA (original script title) - A Chip Off the Old Blob
USA (TV title) - Son of Blob
USA (video box title) - Son of the Blob
Acteurs :
Cast 
Robert Walker Jr Bobby Hartford (as Robert Walker)
Gwynne Gilford Lisa Clark
Richard Stahl Edward Fazio
Richard Webb Sheriff Jones
Shelley Berman Hair Stylist
Godfrey Cambridge Chester Hargis
Larry Hagman Young Hobo
Carol Lynley Leslie
Marlene Clark Mariane Hargis
Gerrit Graham Joe, Ape-Suited Party Guest
JJ Johnston Deputy Kelly Davis
Danny Goldman Bearded Teenager
Rockne Tarkington Deputy Williams
Dick Van Patten Scoutmaster Adleman
Tiger Joe Marsh The Naked Turk
Tim Baar Deputy Ted Sims
Fred Smoot Mike - Pinsetter Repairman
Randy Stonehill Randy - Singing Guitar Player
Del Close Hobo Wearing Eyepatch
Cindy Williams Randy's Girl
Preston Hagman Preston, a Scout
John Houser Hair Stylist's Customer
Larry Norman Blonde Party Guest /Coffee Shop Customer
Robert N Goodman Henry - Security Guard
Patrick McAllister Al - Repairman's Assistant
Bill Coontz Bowling Alley Manager (as William B Foster)
Byron Keith Bowling Customer
Margie Adleman Party Guest with Joe
William Foster News Cameraman (uncredited)
Judy Graubart Minor Role (uncredited)
Sid Haig Zed (uncredited)
Jack H Harris Man Running Across Ice (uncredited)
Burgess Meredith Old Hobo (uncredited)
Conrad Rothmann Fireman (uncredited)
Aucun commentaire pour l'instant.
Toutes les informations proviennent du site http://www.imdb.com
Cette page a été vue 7242 fois.