ATTAQUE DES CRABES GEANTS, L' (1957)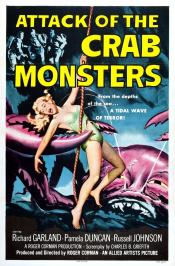 Un groupe de scientifiques arrivent sur une île pour étudier les effets des armes nucléaires. A leur arrivée, ils découvre que l'endroit est peuplé de crabes qui se sont tranformés en des crétures énormes et monstrueuses.
Titre original : ATTACK OF THE CRAB MONSTERS
Réalisateur(s) :
Roger Corman
Scénariste(s) : Charles B Griffith (screenplay) (as Charles Griffith)
Genre(s) : Horror | Sci-Fi
Durée : 62 min
Année : 1957
Pays : USA
Langue(s) : English
Couleur : Black and White
Ratio : 178 : 1
Son : Mono(Westrex Recording System)
Sortie US : 1957-02-10
Autre(s) Titre(s) :
(original title) - Attack of the Crab Monsters
Spain - El ataque de los cangrejos gigantes
France - L'Attaque des crabes géants
Hungary - A rákszörnyek támadása
Italy - L'assalto dei granchi giganti
Mexico - Ataque de los monstruos
Poland - Atak potwornych krabów
Venezuela - El ataque de los cangrejos gigantes
Acteurs :
Cast 
Richard Garland Dale Drewer
Pamela Duncan Martha Hunter
Russell Johnson Hank Chapman
Leslie Bradley Dr Karl Weigand
Mel Welles Jules Deveroux
Richard H Cutting Dr James Carson (as Richard Cutting)
Beach Dickerson Seaman Ron Fellows
Tony Miller Seaman Jack Sommers
Ed Nelson Ensign Quinlan
Maitland Stuart Seaman Mac
Charles B Griffith Seaman Tate
Robin Riley
Doug Roberts
Aucun commentaire pour l'instant.
Toutes les informations proviennent du site http://www.imdb.com
Cette page a été vue 2528 fois.