ANGE EXTERMINATEUR, L' (1962)
FICHE
| CRITIQUE(S) |
PHOTOS (1)
| NEWS | DVDS | VIDEOS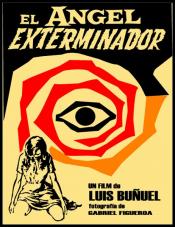 Edmundo et Lucia de Nobile, un couple bourgeois de Mexico, donnent une réception après l'opéra dans leur luxueuse demeure. Quelques faits bizarres se produisent alors : des domestiques partent sans expliquer leur comportement, les invités connaissent une impression de déjà vu, Ana retire de son sac deux pattes de poulet alors que Blanca joue au piano une sonate de Paradisi.
Au moment de partir, une étrange réaction interdit aux invités de quitter les lieux. Ces derniers finissent par dormir sur place. Mais le lendemain matin, ils constatent qu'il est toujours impossible de sortir du salon.
Titre original : EL áNGEL EXTERMINADOR
Réalisateur(s) :
Luis Buñuel
Scénariste(s) : Luis Alcoriza (uncredited), José Bergamin (play) (uncredited), Luis Buñuel (screenplaydialogue)
Genre(s) : Comedy | Drama | Fantasy
Durée : 95 min
Année : 1962
Pays : Mexico
Langue(s) : Spanish
Couleur : Black and White
Ratio : 133 : 1
Son : Mono(RCA Sound System)
Sortie France : 1963-05-01
Sortie US : 1967-08-21
Autre(s) Titre(s) :
(original title) - El ángel exterminador
Brazil - O Anjo Exterminador
Denmark - Morderenglen
Finland - Tuhon enkeli
France - L'ange exterminateur
Greece (transliterated ISO-LATIN-1 title) - O exolothreftis angelos
Hungary - Az öldöklő angyal
Italy - L'angelo sterminatore
Poland - Aniol zaglady
Portugal - O Anjo Exterminador
Sweden - Mordängeln
Soviet Union (Russian title) - Ангел-истребитель
USA - The Exterminating Angel
West Germany - Der Würgeengel
World-wide (English title) - The Exterminating Angel
Yugoslavia (Serbian title) (literal title) - Andjeo unistenja
Acteurs :
Cast 
Silvia Pinal Leticia 'La Valkiria'
Enrique Rambal Edmundo Nobile
Claudio Brook Julio, Mayordomo; Steward
José Baviera Leandro Gomez
Augusto Benedico Carlos Conde; Doctor
Antonio Bravo Sergio Russell
Jacqueline Andere Alicia de Roc
César del Campo Alvaro, Coronel; Colonel
Rosa Elena Durgel Silvia
Lucy Gallardo Lucía de Nobile
Enrique García Álvarez Alberto Roc
Ofelia Guilmáin Juana Avila
Nadia Haro Oliva Ana Maynar
Tito Junco Raúl
Xavier Loyá Francisco Avila
Xavier Massé Eduardo
Ofelia Montesco Beatriz
Luis Beristáin Cristián Ugalde
Patricia Morán Rita Ugalde
Patricia de Morelos Blanca
Bertha Moss Leonora
Eric del Castillo
Janet Alcoriza (uncredited)
Daniel Arroyo Hombre anciano atrapado en iglesia (uncredited)
Victorio Blanco Transeúnte (uncredited)
Florencio Castelló (uncredited)
Arturo Cobo (uncredited)
Pancho Córdova (uncredited)
Enrique del Castillo (uncredited)
Ángel Di Stefani Espectador fuera de la casa (uncredited)
Juan Antonio Edwards Johnny, niño (uncredited)
Jesús Gómez Policia; Policeman (uncredited)
David Hayat (uncredited)
Elodia Hernández (uncredited)
Luis Lomelí (uncredited)
Chel López (uncredited)
Rita Macedo Lucía de Nobile (uncredited)
Ángel Merino Lucas (uncredited)
Roberto Meyer Loco; Fool (uncredited)
Rubén Márquez Hombre atrapado en iglesia (uncredited)
Fernando Yapur Policía (uncredited)
Guillermo Álvarez Bianchi (uncredited)
Aucun commentaire pour l'instant.
Toutes les informations proviennent du site http://www.imdb.com
Cette page a été vue 2410 fois.