A LA LIMITE DU CAUCHEMAR (1982)
FICHE
| CRITIQUE(S) |
PHOTOS (3)
| NEWS | DVDS | VIDEOS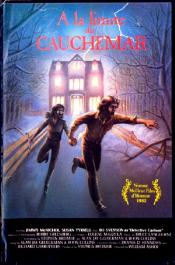 Après la mort accidentelle de ses parents, Billy, un enfant de quatre ans, est recueilli par sa tante Crystal. Après une enfance sans histoire, Billy a maintenant 18 ans et ambitionne de quitter le nid familial. Mais Crystal ne l'entends pas ainsi et va être prête à tout, même à recourir au meurtre, pour conserver Billy auprès d'elle...
Titre original : NIGHT WARNING
Réalisateur(s) :
William Asher
Scénariste(s) : Steve Briemer (screenplay) (as Stephen Breimer) and, Alan Jay Glueckman (screenplay) &, Boon Collins (screenplay),  , Alan Jay Glueckman (story) &, Boon Collins (story)
Genre(s) : Horror
Durée : 96 min
Année : 1982
Pays : USA
Langue(s) : English
Couleur : Color
Ratio : 185 : 1
Son : Mono
Sortie US : 1970-01-01
Autre(s) Titre(s) :
(original title) - Night Warning
- Butcher, Baker, Nightmare Maker
- Momma's Boy
- Nightmare Maker
Finland - Pelko
France - À la limite du cauchemar
UK - The Evil Protege
Portugal - O Protegido do Mal
USA (première title) - Butcher, Baker, Nightmare Maker
USA (alternative title) - Thrilled to Death
West Germany (reissue title) - Mrs. Lynch
Acteurs :
Cast 
Jimmy McNichol Billy Lynch
Susan Tyrrell Cheryl Roberts (Aunt Cheryl)
Bo Svenson Detective Joe Carlson
Marcia Lewis Margie
Julia Duffy Julia
Britt Leach Sgt Cook
Steve Eastin Coach Tom Landers
Caskey Swaim Phil Brody
Cooper Neal Frank
Bill Paxton Eddie (as William Paxton)
Kay Kimler Anna Lynch
Gary Baxley Bill Lynch, Sr
Vickie Oleson Lady Police Officer
Clemente Anchondo Jail Arrestee
Alex Baker Police Officer Westcott
Randy Norton Student Tony
Kelly Kopp Student
Steve DeFrance Lab Man
Bill Keene Radio Announcer
Riley Morgan Chuck Strang
Aucun commentaire pour l'instant.
Toutes les informations proviennent du site http://www.imdb.com
Cette page a été vue 2088 fois.