Filmographie de : Marguerite Chapman
Actrice / Acteur :
INCROYABLE HOMME INVISIBLE, L'
(The Amazing Transparent Man), de
Edgar G Ulmer
, 1960
Victime d'un chantage, un scientifique est contraint de rendre invisible un repris de justice dans le but de cambrioler des banques....
FLIGHT TO MARS
, de
Lesley Selander
, 1951
Une équipe d'astronautes et un journaliste (Cameron Mitchell) entreprend une expédition vers Mars à bord d'un nouveau type de fusée nucléaire. Fusée qui va intéresser grandement les martiens…...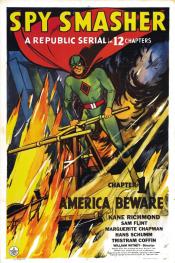 SPY SMASHER
, de
William Witney
, 1942
Alan Armstrong, Spy Smasher affronte un nazi connu sous le nom The Mask, qui dirige un gang de saboteurs déterminés à répandre la destruction à travers l'Amérique. ...