Filmographie de : Robert Marsella
Actrice / Acteur :
THE MAN WHO KILLED HITLER AND THEN THE BIGFOOT
, de
Robert D Krzykowski
, 2018
Un héros américain qui a tué Hitler pendant la guerre est amené à reprendre du service pour traquer le Bigfoot, créature légendaire porteuse d'un virus, qui erre dans la nature canadienne. ...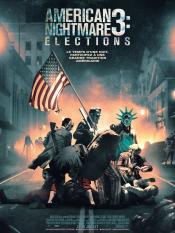 AMERICAN NIGHTMARE 3 : ELECTIONS
(The Purge: Election Year), de
James DeMonaco
, 2016
Une sénatrice américaine se lance dans la course à l'élection présidentielle en proposant l'arrêt total de la Purge annuelle. Ses opposants profitent alors d'une nouvelle édition de cette journée où tous les crimes sont permis pour la traquer et la tuer......