SEED OF CHUCKY
Titre original : Seed Of Chucky
Année : 2005
Pays : USA
Durée : 88 min
Divers : Unrated Version
Note du rédacteur : 3 / 10
L'HISTOIRE
Learning that a movie is being made about the terrible deeds of his dead parents, Glen, Chucky's son, goes to Hollywood.
Having successfully resurrected these last, he notices that his family is far from being as warm-hearted that he dreamt of. In spite of the horror that it causes to the nice Glen, his parents begin a new series of macabre exploits. On the other hand, Chucky can't stand the idea that his son doesn't share his taste for murder ; as far as Tiffany is concerned, she only thinks about crossing the road of the star of the movie, Jennifer Tilly. Each encounter brings its load of surprises...
LA CRITIQUE
Don Mancini
, scriptwriter for the
"CHUCKY"
franchise, decides to get behind the camera in the fifth opus of the series,
"SEEDS OF CHUCKY"
, and at the same time, to direct his first ever long-running movie. Even though he doesn't have much experience, he's not a novice in that matter as he directed an episode of
"TALES FROM THE CRYPT"
("Fitting Punishment") in 1989.
For
"SEEDS OF CHUCKY"
, there's no surprise about the cast as we can find Chucky back (it's his movie after all!) voiced by Grima Wormtongue (oups
Brad Dourif
!) as well as
Jennifer Tilly
, in her own part contrary to
"BRIDE OF CHUCKY"
in which she played the part of a goth bimbo obsessed by the evil doll. The monstrous offspring of Chucky, Glen (Glenda or Shit Face, choose your side), is voiced by Pippin (oups
Billy Boyd
! Gotta stop watching
"THE LORD OF THE RINGS"
!). To this happy cast, you can also add
John Waters
, the rap artist Redman and the make up Tony Gardner who plays his own part.
While we could already feel a drift in the series in the fourth opus,
Ronnie Yu
's
"BRIDE OF CHUCKY"
, this last episode really shows the end of the franchise by going on with not really funny gore comedy. Gore indeed as there are plenty of scenes real bloody there only to fill the emptiness of the scenario. Not very funny, as there are a series of harassing scenes, based on the exaggerated rudeness of Chucky and on the overwhelming will of the psycho couple to kill. The young Glen (or Glenda), in the limelight to the detriment of his father, has himself a very worrying schizophrenia which hides, as you might have guessed, his true nature of a serial killer...
At some times, the movie really falls into ridiculous, in particular during the 'erotic' scene, contrarily to a movie like
"TEAM AMERICA"
in which the mix turns out good!
Even though
Don Mancini
is likely to have pleased himself by directing this episode, he should have concentrated on its scenario, as the concept of 'a movie in the movie' had already been exploited in many films (
"NIGHTMARE ON ELM STREET"
,
"SCREAM"
...).
In this mass of mediocrity, some scene can make you smile, be it the self derision of
Jennifer Tilly
, her relentlessness towards the actress Julia Roberts (who is totally mocked!), the fact that Glen is persuaded of his Japanese roots because of the caption 'Made in Japan' written on his arm or Britney Spears going out of the road (Oups I did it again)... but that's not enough to make a good horror movie, as it is just a not too bad entertainment....
This movie, which is filled with references (
"SHINING"
and
"FANGORIA"
, for the more important), is on the edge of a total failure, an awkward comedy, but anyway decorated with its part of haemoglobin, and hasn't to be taken at face value. It's the end of the spooky 'Nice Guy' of the first episodes...
« Ade due Damballa », please stop the massacre here! No CHUCKY #6!
Publiée le
- VOS COMMENTAIRES (ancienne version pour ceux qui n'ont pas de compte Facebook) -

Attention, vous laissez des commentaires sur le film et non sur la critique ou le site.
Tout commentaire injurieux, raciste ou déplacé sera supprimé par la rédaction.

Akacha
- 25/09/2009 à 04:56
# 7
J ai aimé Chucky des le début . Mon favori est La fiancée de Chucky .
Sa note:
8/10
polack
- 14/02/2009 à 21:14
# 6
j'avoue que ce film est super
Sa note:
7/10
kevin
- 03/10/2008 à 17:14
# 5
Moi j'ai bien aimé et c'est mon preferer avec La Fiancée de Chucky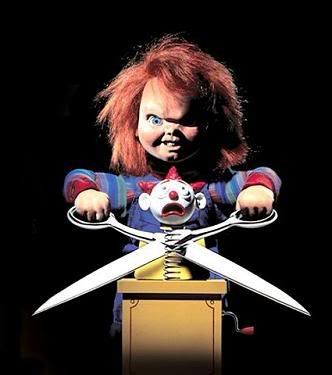 minidou
- 26/05/2008 à 17:23
# 4


Chucky est le meilleur !n J'ai rien à dire :p

11/10 pour Chucky <3
woody
- 24/04/2008 à 19:47
# 3
"Chucky" ne se prend absolument pas au sérieux, les scènes absurdes viennent combler le manque de scénario.

Honnêtement Shunlybelle, tes commentaires de pom-pom girl, on peut s'en passer
Sa note:
7/10
Shunlybelle
- 17/03/2008 à 17:18
# 2
Moi je trouve que c'est mieux réussi et moins effrayant par rapport à Team america(qui m'avait assez impressionnée par la scène de vomi incompréhensible).Certes je n'aime pas trop Chucky mais la note mérite d'être un peu haussée parce que les poupées sont vraiment bien réussies et les scènes gores,c'est pareils lol.Moi je vous fais partager mon opinion et pour information,mon personnage préféré est Tiffany car elle est vraiment mimi,regardez ses magnifiques yeux vert !Je la trouve sensible et contrairement à Chucky,elle veut arrêter de tuer.A mon goût à moi,Tiffany est plus belle que Jennifer Tilly et ce serait vraiment dommage de quitter son joli petit corps de poupée pour devenir actrice,déjà que Tiffany en est une,car c'est une poupée assassin comme Chucky,l'un des tueurs imaginaires les plus célèbres.
Sa note:
7/10
Post-tt
- 29/02/2008 à 13:02
# 1
Dans la lignée directe des precedents films de la saga, si vous kiffez cette vieille poupée rousse pas belle, allez y!

Sinon pour les autres, retournez voir le premier !
Sa note:
5/10
Laissez votre commentaire
Cette page a été vue 14046 fois.