Filmographie de : Pablo Guisa Koestinger
Actrice / Acteur :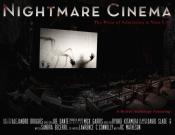 NIGHTMARE CINEMA
, de
Alejandro Brugués
(segment 'The Thing in the Woods'),
Joe Dante
(segment 'Mirari'),
Mick Garris
(segments 'The Projectionist', 'Dead'),
Ryûhei Kitamura
(segment 'Mashit'),
David Slade
(segment 'This Way To Egress'), 2018
Des personnes sont attirées dans un cinéma de quartier et se retrouvent à l'écran, propulsées dans des récits horrifiques. Une anthologie de cinq films signés par de très grands noms du fantastique et de l'horreur....
SCHERZO DIABOLICO
, de
Adrián García Bogliano
, 2015
...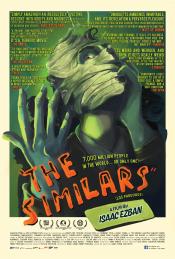 THE SIMILARS
(Los Parecidos), de
Isaac Ezban
, 2015
1968. Par une terrible nuit d'orage, huit inconnus coincés dans une station de bus isolée sont pris de convulsions puis se réveillent dans un état perturbant....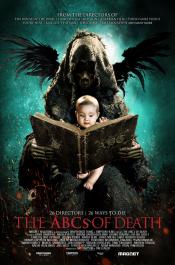 THE ABCS OF DEATH
, de
Kaare Andrews
(segment 'V is for Vagitus'),
Angela Bettis
(segment 'E is for Exterminate'),
Hélène Cattet
(segment 'O is for Orgasm'),
Ernesto Díaz Espinoza
(segment 'C is for Cycle'),
Jason Eisener
(segment 'Y Is for Youngbuck'),
Bruno Forzani
(segment 'O is for Orgasm'),
Adrián García Bogliano
(segment 'B Is for Bigfoot'),
Xavier Gens
(segment 'X Is for XXL'),
Jorge Michel Grau
(segment 'I is for Ingrown'),
Lee Hardcastle
(segment 'T Is for Toilet'),
Noboru Iguchi
(segment 'F is for Fart'),
Thomas Cappelen Malling
(segment 'H is for Hydro-Electric Diffusion'),
Anders Morgenthaler
(segment 'K is for Klutz'),
Yoshihiro Nishimura
(segment 'Z is for Zetsumetsu'),
Banjong Pisanthanakun
(segment 'N is for Nuptials'),
Simon Rumley
(segment 'P Is for Pressure'),
Marcel Sarmiento
(segment 'D Is for Dogfight'),
Jon Schnepp
(segment 'W is for WTF?'),
Srdjan Spasojevic
(segment 'R Is for Removed'),
Timo Tjahjanto
(segment 'L is for Libido'),
Andrew Traucki
(segment 'G is for Gravity'),
Nacho Vigalondo
(segment 'A Is for Apocalypse'),
Jake West
(segment 'S is for Speed'),
Ti West
(segment 'M Is for Miscarriage'),
Ben Wheatley
(segment 'U Is for Unearthed'),
Adam Wingard
(segment 'Q Is for Quack'),
Yudai Yamaguchi
(segment 'J is for Jidai-geki'), 2012
26 lettres. 26 réalisateurs. 26 façons de mourir. Un abécédaire de la Mort frénétique et extrême....