Filmographie de : Masamune Shirow
Scénariste :
GHOST IN THE SHELL ARISE: BORDER 2 - GHOST WHISPER
(Ghost in the Shell Arise: Border 2 - Ghost Whisper ), de
Atsushi Takeuchi
,
Kazuchika Kise
(chief director), 2013
...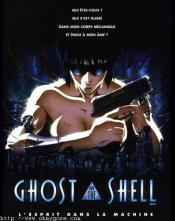 GHOST IN THE SHELL
(Kôkaku Kidôtai), de
Mamoru Oshii
, 1995
Dans un Japon futuriste régi par l'Internet, le major Motoko Kusunagi, une femme cyborg ultra-perfectionnée, est hantée par des intérrogations ontologiques. Elle appartient, malgré elle, à une cyber-police musclée dotée de moyens quasi-illimités pour lutter contre le crime informatique. Le jour où sa section retrouve la trace du 'Puppet Master', un hacker mystérieux et légendaire dont l'identité reste totalement inconnue, la...