Filmographie de : Mark Bakunas
Actrice / Acteur :

GRINDHOUSE

, de

Robert Rodriguez

(segment 'Planet Terror') (fake trailer segment 'Machete'),

Eli Roth

(fake trailer segment 'Thanksgiving'),

Quentin Tarantino

(segment 'Death Proof'),

Edgar Wright

(fake trailer segment 'Don't'),

Rob Zombie

(fake trailer segment 'Werewolf Women of the SS'), 2007

...

HOSTEL

, de

Eli Roth

, 2005

Deux étudiants américains, Paxton et Josh, ont décidé de découvrir l'Europe avec un maximum d'aventures et de sensations fortes. Avec Oli, un Islandais qu'ils ont rencontré en chemin, ils se retrouvent dans une petite ville de Slovaquie dans ce qu'on leur a décrit comme le nirvana des vacances de débauche : une propriété très spéciale, pleine de filles aussi belles que faciles... Natalya et Svetlana sont effectivement très cools......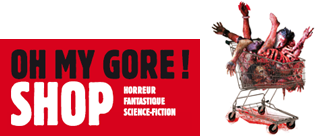 [phpBB Debug] PHP Warning
: in file
/home/users3/o/ohmygore/www/inc_right.php
on line
208
:
Invalid argument supplied for foreach()
© 2001-2015 Oh My Gore ! -
Mentions Légales
Tous les contenus multimédia (images, photos, vidéos..) diffusés sur ce site sont la propriété de leurs auteurs ou ayants droits respectifs et ne sont diffusés que dans un but informatif.
-
Liens
-
Contacts
-
OMG Army
-
SciFi-Universe.com
|
Halluciner.fr
-|- In Gore We Trust -|-