Filmographie de : Larry Miller
Actrice / Acteur :
THE MAN WHO KILLED HITLER AND THEN THE BIGFOOT
, de
Robert D Krzykowski
, 2018
Un héros américain qui a tué Hitler pendant la guerre est amené à reprendre du service pour traquer le Bigfoot, créature légendaire porteuse d'un virus, qui erre dans la nature canadienne. ...
GOD BLESS AMERICA
, de
Bobcat Goldthwait
, 2011
Frank, un cinquantenaire en phase terminale, décide de passer le peu temps qui lui reste à tuer tous les gens qui rendent la télévision insupportable. Accompagné de Roxy, une lycéenne, ils vont se livrer à un carnage sans limites...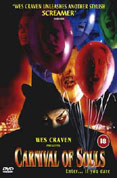 CARNAVAL DES ÂMES, LE
(Carnival of Souls), de
Adam Grossman
, 1998
...