Filmographie de : Huey Lewis
Actrice / Acteur :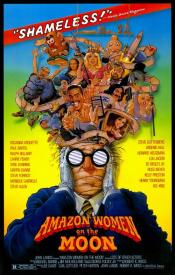 CHEESEBURGER FILM SANDWICH
, de
Joe Dante
(segments 'The French Ventiloquist's Dummy' [TV cut & DVD only], 'Hairlooming', 'Bullshit or Not', 'Critic's Corner', 'Roast Your Loved One', 'Reckless Youth'),
Carl Gottlieb
(segments 'Peter Pan Theater' [TV cut & DVD only], 'Pethouse Video', 'Son of the Invisible Man', 'Art Sale'),
Peter Horton
(segment 'The Unknown Soldier' [TV cut & DVD only]'Two ID's'),
John Landis
(segments 'Mondo Condo', 'Hospital', 'Blacks Without Soul', 'Don 'No Soul' Simmons', 'Video Date'),
Robert K Weiss
(segments 'Murray in Videoland', 'Amazon Women on the Moon', 'Silly Paté', 'Video Pirates', 'First Lady of the Evening', 'Titan Man'), 1987
Une suite de sketches ayant comme fil conducteur le film imaginaire de science-fiction Amazon Women On The Moon, dont la diffusion s'avère sans cesse interrompue....
RETOUR VERS LE FUTUR
, de
Robert Zemeckis
, 1985
1985. Le jeune Marty McFly mène une existence anonyme auprès de sa petite amie Jennifer, seulement troublée par sa famille en crise et un proviseur qui serait ravi de l'expulser du lycée. Ami de l'excentrique professeur Emmett Brown, il l'accompagne un soir tester sa nouvelle expérience : le voyage dans le temps via une DeLorean modifiée. La démonstration tourne mal : des trafiquants d'armes débarquent et assassinent le scientifique....