Filmographie de : Hiroko Yoneyama
Actrice / Acteur :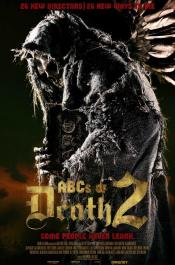 THE ABCS OF DEATH 2
(ABCs of Death 2), de
Rodney Ascher
(segment 'Q is for Questionnaire'),
Julian Barratt
(segment 'B is for Badger'),
Robert Boocheck
(segment 'M is for Masticate'),
Alejandro Brugués
(segment 'E is for Equilibrium'),
Kristina Buozyte
(segment 'K is for Knell'),
Alexandre Bustillo
(segment 'X is for Xylophone'),
Larry Fessenden
(segment 'N is for Nexus'),
Julian Gilbey
(segment 'C is for Capital Punishment'),
Jim Hosking
(segment 'G is for Grandad'),
Lancelot Oduwa Imasuen
(segment 'L is for Legacy'),
EL Katz
(segment 'A is for Amateur'),
Aharon Keshales
(segment 'F is for Falling'),
Steven Kostanski
(segment 'W is for Wish'),
Marvin Kren
(segment 'R is for Roulette'),
Juan Martínez Moreno
(segment 'S is for Split'),
Erik Matti
(segment 'I is for Invincible'),
Wolfgang Matzl
(title sequence),
Julien Maury
(segment 'X is for Xylophone'),
Robert Morgan
(segment 'D is for Deloused'),
Chris Nash
(segment 'Z is for Zygote'),
Vincenzo Natali
(segment 'U is for Utopia'),
Hajime Ohata
(segment 'O is for Ochlocracy [Mob Rule]'),
Navot Papushado
(segment 'F is for Falling'),
Bill Plympton
(segment 'H is for Head Games'),
Dennison Ramalho
(segment 'J is for Jesus'),
Todd Rohal
(segment 'P is for Scary'),
Jerome Sable
(segment 'V is for Vacation'),
Bruno Samper
(segment 'K is for Knell'),
Jen Soska
(segment 'T is for Torture Porn'),
Sylvia Soska
(segment 'T is for Torture Porn'),
Sôichi Umezawa
(segment 'Y is for Youth') (as Soichi Umezawa), 2014
La suite de l'une des plus ambitieuses anthologies jamais conçues au cinéma, réalisée par des cinéastes de tous horizons, du Nigeria au Royaume-Uni en passant par le Brésil, Israël ou les Philippines. Un film composé de 26 segments, chacun dirigé par un réalisateur différent, qui s'est vu attribuer une lettre de l'alphabet, puis qui a choisi de l'illustrer à l'écran par un mot et une histoire dans laquelle la mort joue un...
AU-DELà DU SANG
(Beyond the Blood), de
Guillaume Tauveron
, 2012
Un an après le meurtre de sa femme, Shinji reçoit un mystérieux message. On lui donne rendez-vous pour connaître le nom de l'assassin. Hanté par ses souvenirs et le fantôme de sa femme, il va alors s'enfoncer dans l'obscurité de Tokyo où il fait la rencontre d'une jeune fugueuse, Tomoko. Durant cette nuit où leurs chemins croiseront yakuzas et âmes en détresse, leurs vies basculeront à jamais…...